Name: Miyuki Yokouchi
Batch: FY2013-1 (1 July 2013 - 30 June 2015)
Technical Field: Nurse
Host Organization: Thyolo District Hospital
Hometown in Japan: Fukagawa City, Hokkaido
A Piece of Memory: "A Rare Case Where a Thread of Tension was Unraveled in an Instance"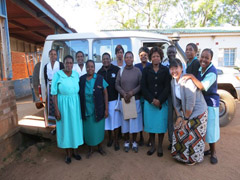 After finishing my training as a nurse at the capital city, where I was worried since it was my first time in Africa with a completely different lifestyle from Japan, I went to my assigned destination. As a staff member, I was desperate to get used to the environment at my workplace as quickly as possible. The incident happened after a month I was assigned.
My job was to load medical supplies into the car and visit each village to carry out mobile medical care with other medical staff. The rain was so heavy that the ground became muddy and everyone's white gowns were covered with mud trying to push our car out of the mud and forcing our way across the flooded river with the old road car. As such, I always felt nervous every day, but I worked the whole day, traveling to different places as far away as three hours one way. I remember that in the villages I went to the first time, children were startled to see me, who had a skin color different from theirs; they all ran away, scattering in all directions.
That day was about a month after I was assigned to this place. Since the traveling time is so long, we had time for a snack in our car. We would eat the snacks even if we jumped out of our seats in the middle of a rough road, or even while blowing up mud and dust. My colleague said, "You should eat this cassava," handing me a raw one. I felt a lot of conflicting feelings in my mind, questioning myself, "Hmm, this is raw, isn't it?" However, thinking that I might discover a new taste, I took a bite, after learning how to peel the skin. All I could think was that I was eating starch, feeling that it was not delicious at all, but I could not make any comments there, so I managed to finish eating it while chatting and smiling.
Then, we arrived at the destination after two hours of traveling. I started feeling abdominal pain in less than 30 minutes! As expected, I had indigestion. I knew about the toilet situation in these remote places, so I planned to go to the bathroom after returning to my workplace, avoiding drinking water as much as possible. However, I could not concentrate on doing my job no matter what, so I asked my colleague where the bathroom was.
It was at a place a little far from the clinic, and where not many people passed by. I quickly ran into the bathroom and finished what I had to do, and when I was relieved, the incident happened. What? What? Where is the doorknob? Didn't it just close? Not many people pass by here, and I was in a hurry, so I did not check the doorknob. Wracking my brains, I decided to insert the key to my home that I had with me, but it did not work. I tried to call my colleague, but the phone was outside the range of the communication area. I thought they would not leave me here, but my anxiety was at its peak. Putting aside my pride, I screamed, "Help, help!" in Japanese. Then about five minutes later, villagers and colleagues came to open the door. The patients who came to receive treatment were also there. As soon as they saw me come out, they burst out in laughter. Seeing that, I felt relieved rather than embarrassed, and as the thread of tension due to changes in my life and environment unraveled at that instance, I started to laugh with them. It was a moment when I really felt relieved. I think that the distance between the villagers, staff members (picture), and I became really close because of that incident. It was a rare, embarrassing incident, but I am now grateful for it.
Next will be Sayuri Kagawa (Nurse) from batch FY2012-3, whom I relied on for many things since we had the same occupation. She has a wonderful smile and an interesting personality that you gradually feel as you talk with her. She is a very attractive person in every way.