The Government of the Republic of the Union of Myanmar and the Japan International Cooperation Agency (JICA) signed a loan agreement of COVID-19 Crisis Response Emergency Support Loan (Investment Promotion and Financial Sector Development Program Loan) in Nay Pyi Taw, on September 1st. Based on the loan agreement, JICA is providing 30 billion JPY (approx. $280 million) concessional loan to the Myanmar Government to support resilient economic recovery through implementation of COVID 19 Economic Relief Plan (CERP) and related policies for investment/trade promotion and financial sector strengthening.
The loan proceeds are going to be utilized to implement the policy package under CERP, which is estimated to cost approximately $2 billion in total, supplementing the union government's budget and other financial support from international financial institutions. In addition to the financial support for CERP implementation, the institutional framework established for implementation and monitoring of the loan provides a solid platform for carrying out growth-inducing policy reforms in the following 3 pillars:
Pillar 1: Sustaining Macroeconomic Stability through monetary and fiscal policies
Pillar 2: Recovery of the private sector through improvements of business, investment, and trade environment
Pillar 3: Revitalizing business activities through establishing advanced financial platforms
The implementation of the policy reforms is also supported by JICA's ongoing technical cooperation projects in the field of investment promotion, industrial development, trade facilitation and financial sector modernization, etc.
"JICA highly appreciates Myanmar government's swift policy response to the economic impact of COVID19 embodied in CERP. The emergency support loan not only fills the critical financial gap for the implementation of short-term relief measures but also lays the groundwork for the sustainable long-term recovery through supporting prioritized economic policy reforms, leveraging JICA's technical cooperation projects" said Mr SAKAKURA Noriji, Chief Representative of JICA Myanmar Office.
The loan is the second financial support provided under the overall emergency support package for Myanmar, following 5 billion JPY low-cost financing for SMEs launched in June. In parallel with the implementation of such projects, JICA is working on the next emergency support project under the package in close cooperation with the Myanmar government to provide greater thrust to the recovery of the private sector and the livelihoods of the people.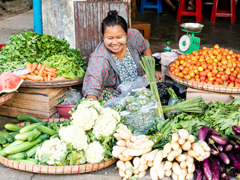 Lively local business activities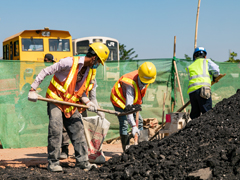 The economy is moving steadily towards recovery.