Background and Objective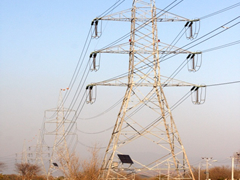 Electrification rate in Balochistan province is only 26% as compared to national rate of 72% whereas the demand for electricity is highest among all the provinces. Particularly, the demand in the agriculture sector is ever increasing due to installation of tube wells. In spite of rapid increase in demand of electricity, main electricity supply to the province is limited to only one transmission line (Guddu-Sibbi-Quatta). Because of insufficient power transmission infrastructure, consumers in some areas of Balochistan such as Khuzdar are suffering from acute load shedding and dropped voltage profile. Keeping this in mind, this project was developed to provide an alternate supply route to Balochistan and to improve voltage in Khuzdar area.
| | |
| --- | --- |
| Term | December 2006 to June 2015 (8 year) |
| Total Amount of Aid | 3702 million Yen |
| Project Location | Dadu (Sindh) and Khuzdar (Balochistan) |
| Executing Agency | National Transmission & Dispatch Company |
Project Summary
This project has been designed to provide alternative link to Khuzdar Area of Balochistan with National Grid to meet the power demand, to improve voltage and stabilize power supply to the vicinity of Khuzdar area of QESCO network thereby contributing to the increase of electrification rate, development of industries and alleviating poverty of the area. Main components include 300 KM 220 kV Transmission Line, New 220 kV Grid Station at Khuzdar, Extension of 220 kV Grid Station at Dadu (Sindh).
Project Highlights
A 275 kilometer 220kV double circuit transmission line is being constructed to link existing NTDC Grid Station at Dadu (Sindh) to 220kV new Grid Station at Khuzdar. This includes 752 steel towers, 1650 km conductor and 275km OPGW. Two 220kV auto-transformers (160 MVA); Bus Isolators (16 sets for 220kV and 9 sets for 132kV); two sets of 220kV line isolators; circuit breakers and shunt reactors.