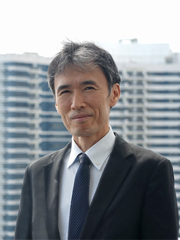 The Japan International Cooperation Agency (JICA) announced recently the appointment of AZUKIZAWA Eigo as new chief representative of the JICA Philippine Office.
AZUKIZAWA, a development finance expert, served at the former Japan Bank for International Cooperation (JBIC) Paris Office from 2004 - 2006 and held key finance management positions in JICA from 2008 to 2020. He was also involved in development finance for more than 12 years at the former Overseas Economic Cooperation Fund (OECF), Japan's loan aid implementing agency. AZUKIZAWA succeeded WADA Yoshio who led JICA's operations in the Philippines for the past two years.
"While these are challenging times globally, particularly with disruptions in human security, JICA assures the Philippines that we will continue to strengthen our trusted partnership – sharing Japan's experience and knowhow, building capacity, and creating win-win solutions," said AZUKIZAWA.
JICA, the world's largest bilateral aid agency with more than 100 overseas offices, is also the Philippines' top Official Development Assistance (ODA) partner for many years. In fiscal year 2018, the total value of JICA Programs in the Philippines amounted to JPY 60.135 billion. To date, JICA has around 70 development cooperation projects nationwide addressing sustainable economic growth, overcoming vulnerability, and peace and development in Mindanao.
A balikbayan (returnee) to the Philippines, AZUKIZAWA has served in the JICA Philippine Office from 2013 to 2015 overseeing JICA's infrastructure development initiatives among others to encourage sustainable economic activities.
"I call on our partners to work closely with JICA and harness innovative solutions and agile ways to accomplish our projects," added AZUKIZAWA, while also saying that JICA will continue to encourage Japanese private sector participation in development, using their insights and investment experiences, to sustain gains in development and ensure a better future for all.
A graduate of political science and economics at Waseda University, AZUKIZAWA supported policies and operations in JICA Tokyo Headquarters under the Office of the President in 2015 - 2018 and as Deputy Director General of the Southeast Asia and Pacific Department from 2018 - 2020.