With the recent global pandemic raising issues on sustainability of resources, a young Filipino is applying lessons on lake conservation from her training in Japan to help preserve Laguna de Bay, the Philippines' largest fresh body of water.
Cynthia Caburnay Buen, 39, from the Agricultural Services Department in Calamba, is implementing a conservation management strategy for residents around Laguna de Bay dubbed MATH for Wealth of the Lake. MATH stands for Mentor the future generation, Access partnership, Technology and information dissemination, and Home and family-based approach. Laguna de Bay, located in southern Metro Manila, is being threatened with pollution that has led to poor water quality in the lake.
The conservation management strategy aims to address the unsustainable aquaculture practices and discharges from nearby polluted creeks and rivers that have severely affected the lake's water conditions. Laguna de Bay, being the country's largest fresh body of water, is a valuable resource for agriculture, aquaculture, power generation, and flood control.
Buen trained under the Knowledge Co-Creation Program (KCCP) of the Japan International Cooperation Agency (JICA) under the course Fisheries Resource Management where she met with Japanese non-profit groups, and studied practices in Ishinomaki, a fishing center in Tohoku Region where the Great East Japan Earthquake and Tsunami happened in 2011.
"Meeting Japanese organizations, and seeing their work to empower and strengthen fisherfolks became an eye opener for me," shared Buen. When Buen returned to the Philippines, she applied her lessons from Japan on bottom-up planning and spearheaded the MATH for the Wealth of the Lake in Laguna to promote sustainable management of fishery resources.
With the project, Buen promotes lake conservation to youth and students; partners with different stakeholders for financing, technical, and other support; uses new technology for information dissemination; and involves families in lake preservation activities. In October 2018, the program received the Ibaraki Kasumigaura Award besting 50 other countries at the 17th World Lake Conference in Ibaraki, Japan.
Her idea is to also involve more women and youth and alleviate poverty among the fisher folks through strengthening the Calamba Fisherfolks Producers Cooperative. The cooperative has recently extended assistance to members affected by the enhanced community quarantine in Luzon in response to the coronavirus disease (COVID-19) pandemic.
"I am humbled to say that the programs and projects I do were part of the lessons I gained from Japan," she said.
Since JFY 2018, more than 40,000 young Filipinos have already trained in Japan under JICA's KCCP that aims to promote mutual learning between Japan and developing countries. Its objective is also to build the capacity of local leaders by learning technologies and skills in Japan and creating solutions on development issues.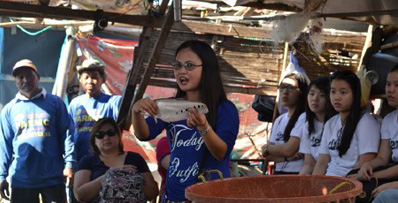 Buen (center) explaining to students and other locals how certain invasive species of fish threaten biodiversity in Laguna de Bay. Photo courtesy of Julie Lubay.