As vulnerable sectors endure disruptions in the value chain, local farmers in Benguet have adopted safe vegetable production and marketing technology from a Japanese non-profit group to boost sustainability.
"Our farmers were trained to become more competitive in the market by using available raw materials for production, producing organic vegetables safe for consumption, and becoming more competitive against imported vegetables," said Wilfredo de Chavez, chief technical advisor for the Safe Vegetable Production and Marketing Technology Project of Japanese non-profit group Japan Agricultural Exchange Council (JAEC) together with the Department of Agriculture (DA), and Japan International Cooperation Agency (JICA).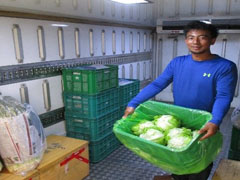 While the first four (4) phases of the project from 2007 to 2016 focused on safe vegetable production, the fifth phase, conducted from 2016 to 2019, sought to boost farmers' incomes through proper post-harvest handling, transport, and pricing. According to de Chavez, "About 40% of vegetables had become food waste during delivery from farms to markets."
In the fifth phase of the project, local officers (including a former DA Secretary and two DA-Undersecretaries) visited vegetable farms in Japan to observe harvesting, packing, and shipping of vegetables; cold storage; wholesale market; farmers' market; and supermarket.
The officer trainees have already begun explaining to local farmers the importance of distribution to preserve vegetable freshness. Today, Benguet farmers have adopted using crates in packing their vegetables instead of paper and plastic. A group of farmers also works with a Japanese company supplying vegetables in the Asian market who continues to supply vegetables to selected supermarkets during the Luzon-wide enhanced community quarantine.
Aside from marketing, the project's assistance also came in the form of trainings to farmers on using available raw materials like coconut husks, trimmings from trees, and weeds as alternative to chemicals, making their produce safer for consumption.
JAEC is a Japanese non-profit group that has been training young farmers in Japan and in countries like the Philippines, Thailand, Malaysia to name a few. For the past years, they have trained 650 Filipino farmers in Japan.
JICA, the world's largest bilateral aid organization, has been working with Japanese grassroots organizations like JAEC and local governments to share Japan's experience and knowhow in addressing diverse development problems.