Amid lull in economic activities from the pandemic, the Japan International Cooperation Agency (JICA) assures its continuing support to rehabilitation and recovery in Marawi via the ongoing 61.77 kilometers of road network projects in the area.
The Department of Public Works and Highways (DPWH) is implementing the grant road projects to rehabilitate Marawi Trans-central Road Phase I and II. Meanwhile, another JICA-DPWH ODA loan project is also being implemented to rehabilitate Marawi Trans-central Road Phase III and construct Marawi City Ring Road.
Once completed, said projects will strengthen the transport link from resettlement areas to new markets, improve the people's access to public facilities, improve mobility of the people of Marawi, and facilitate the movement of goods in the area.
In the absence of a road network, among the infrastructure damaged during the 2017 siege of Marawi, surrounding communities like Cotabato, Zamboanga, and Maguindanao have difficult access to Marawi's trading centers.
"JICA has always supported the Philippines' inclusive development priorities, and the road projects in Marawi are essential to help the people get back on their feet, boost economic opportunities, and enable the people of Marawi to access public services like health, housing, and water supply among others," said JICA Chief Representative AZUKIZAWA Eigo. .
The Japanese bilateral aid agency has been supporting human security including poverty alleviation and peace building in conflict-affected areas like Mindanao. Since 2002, JICA has supported Mindanao's peace and development through community development, socioeconomic infrastructure, and capacity building. Over the past few years, JICA implemented technical cooperation programs which have contributed to the capacity development of national and regional DPWH Engineers.
Most recently, other than road projects, JICA has implemented development cooperation projects in the Mindanao region including the Comprehensive Capacity Development Project for the Bangsamoro (2013-2019) training some 6,400 farmers and local officials on governance and livelihood; Market Driven Local Industry Promotion (2017-2019) supporting industry clusters such as abaca, coconut, coffee, palm oil, rubber, and seaweed, and Capacity Development Project for the Bangsamoro (2019-2022) supporting the transition to Bangsamoro government.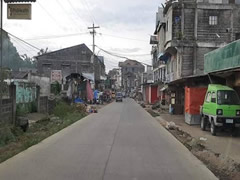 Part of the completed concrete pavement of Marawi Trans-central Road I leading to Ground Zero or the most affected area by the Marawi Siege