The Japan International Cooperation Agency (JICA) and the Philippine Government through the Department of Finance (DOF) signed this week a combined total of 154 billion yen Official Development Assistance (ODA) for infrastructure projects in Cebu and Davao emphasizing the Japanese bilateral aid agency's support to the Philippine economy affected by the COVID-19 pandemic.
The infrastructure projects include the 4th Cebu-Mactan Bridge and Coastal Road and Davao City Bypass projects expected to be completed on 2029 and 2023, respectively. Said projects are among the eight (8) ongoing cooperation of JICA and the Philippines in the roads and bridges sector under the Build Build Build agenda of the Philippine government.
"We assure the Philippines of our continuing support through quality infrastructure to help boost investments and restart the country's economy. As trusted development partner of the Philippines, JICA will continue to share our expertise on infrastructure as the Philippine economy seeks to rebound from the impact of COVID-19," said JICA Philippines Chief Representative AZUKIZAWA Eigo.
The projects, during construction, can also create jobs in the road sector at this time when many Filipinos workers have been displaced. Once completed, JICA said the projects "will ease traffic in these areas and spread economic growth in the long-term."
The Cebu-Mactan Bridge and Coastal Road project is composed of a 3.3 kilometer bridge and 4.9 kilometer road. Meanwhile, the Davao City Bypass project stretching 45.5 kilometers (4-lanes) is set to have the first long-distance mountain tunnel in the country using tunneling technology commonly used in Japan. It will also include a component on capacity development of DPWH staff for tunnel operation and maintenance in recognition of the significance of the pioneering tunnel facility which would extend for about 2.2 kilometers.
Studies noted that the road sector in the Philippines accounts for 98% of passenger traffic and 58% cargo traffic. Poor infrastructure unfortunately has affected the Philippines' competitiveness ranking in the World Economic Forum Global Competitiveness Report 2019, with the country sliding down to 96th out of 141 nations in terms of infrastructure ranking.
Historically, JICA has helped build and rehabilitate over 2,200 kilometers of roads in the Philippines. Aside from building infrastructure, JICA also extended institutional support, capacity building, and technology transfer as support to the Philippine roads and bridges sector.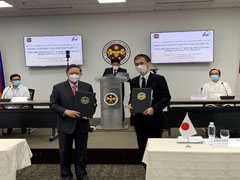 Finance Secretary Carlos Dominguez III and JICA Philippines Chief Representative AZUKIZAWA Eigo after the loan signing ceremony