The Japan International Cooperation Agency (JICA) welcomed the first five batches of Filipino trainees of the Philippine Railway Institute (PRI) during their first ever virtual graduation as they embark on improved railway management services in the Philippines amid the coronavirus crisis.
In remarks recorded for the virtual graduation, JICA Chief Representative AZUKIZAWA Eigo congratulated the 116 (TBC) trainees, urging them to continue helping improve the Philippines' railway services "to help reduce the difficulties of Filipinos in accessing transportation options and everyday hardships of dealing with traffic congestion and pollution."
Azukizawa also emphasized that with the unexpected challenges from the pandemic, improved railway services will inevitably "contribute to improving the quality of life in the Philippines."
JICA has supported the establishment of the PRI in partnership with the Department of Transportation (DOTr) to build the capacity of the Philippines in railway management through trainings and research and development. Aside from human resource development through PRI, JICA has also provided Official Development Assistance (ODA) to the country's railway sector for the Metro Manila Subway, North-South Commuter Railway (NSCR) and Extension, Metro Rail Transit Line 3 Rehabilitation, Light Rail Transit (LRT) Line 1 Cavite Extension, and LRT Line 2 East Extension Projects.
The graduates completed a refresher course on railway operations including passenger management, fare ticketing management, train driving, among others. With the onset of the coronavirus challenges, training will be shifted online. The trainings are conducted by PRI officers, with the support of Japanese experts, including some from Tokyo Metro Co., Ltd., which runs one of the busiest metro systems in the world.
JICA is also supporting the construction of the PRI building patterned after the Tokyo Metro Railway Institute at the depot of the Metro Manila Subway. The PRI courses are currently offered to existing employees of Philippine railway operators and will also offer courses for future railway personnel.
JICA, the world's largest bilateral aid agency and a trusted development partner of the Philippines, has supported transport infrastructure development in the Philippines specifically railways since the 1970's through diesel-electric railcars for the Philippine National Railway (PNR), and early capacity expansion of LRT Lines 1 and 2 to cite a few.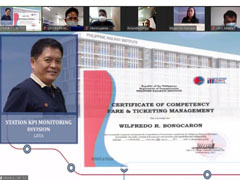 Virtual awarding of certificates to the PRI graduates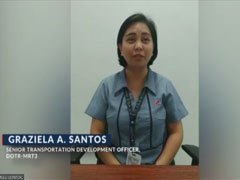 Messages from the top graduates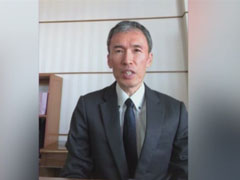 Congratulatory message from JICA Philippines Chief Representative AZUKIZAWA Eigo