The Japan International Cooperation Agency (JICA) continues to build the capacity of Filipino public servants through its grant aid for human resource development in the Philippines, giving Filipino government workers opportunities to learn from Japan's universities and contribute to social and economic development in the country.
The goal of said human resource development project is to send 20 Filipinos every year to learn from Japan's development experiences, and explore solutions to emerging development issues. Department of Interior and Local Government (DILG) Assistant Secretary Francisco Relevo Cruz was among the scholars of the Project for Human Resource Development Scholarship by Japanese Grant Aid, or JDS when Asec Cruz was a recipient of JDS 2007.
After completing a master's course in media and governance in Japan's Keio University, Cruz returned to DILG and advocated stakeholder consultation process in the agency's initiatives. "By adopting this process, we allow people, civil society organizations (CSOs), and other stakeholders to tell us how they think we should proceed to improve them. The process is inclusive, never leaving anyone behind," he explained.
During the scholarship, Cruz said he met with Japan public servants in Fujisawa city government. "They showed professionalism and patience in their work, while also setting good examples for Filipino public servants like myself on the way we should do our work. I also remember from my studies in Japan the concept of "deviant case" or being attentive to the concerns of the minority," Cruz shared.
The Japanese scholarship, Cruz added, also gave him the opportunity to advance in his career. At DILG, Cruz now helps set the agency's strategic directions, ensuring that its plans and programs have adequate resources and are aligned with the priorities of the national government.
Currently, JICA scholars may take courses under the JICA Development Studies Program. This program was introduced by JICA in 2019, in partnership with Japanese universities where JICA scholarships are offered. Historically, Japan's economic resurgence depended on education and human resource development among others. Under JDS, 299 Filipinos completed their graduate courses in Japan as of 2019.
Aside from the Philippines, the JDS has provided scholarships to more than 3,000 scholars in Vietnam, China, Laos, Cambodia, Uzbekistan, among others. In the Philippines, investing in human capital development is among the priorities of the current administration.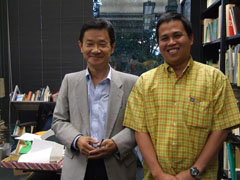 Asec Cruz with Prof. Michio Umegaki, his professor in Japan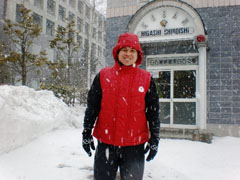 Asec Cruz in Sapporo, Japan