Nineteen Filipino scholars who received the Japanese Grant for Human Resource Development Scholarship (JDS) in 2018 returned to the Philippines last September 2020 to apply what they have learned in their work and to contribute to Philippine development.
The JDS is a component of JICA's Official Development Assistance (ODA) where young leaders from partner countries are given full scholarships for graduate degrees in Japanese universities as support to human resource development. Also, the JDS Program is a platform for Japan to share their experience in development and prepare young leaders on emerging development issues.
According to JICA, the JDS scholarship is now even more relevant in the country, considering the present challenges of the COVID-19 pandemic and the recent major disasters which affected the Philippines, such as typhoons Rolly and Ulysses.
"We all must continue to go forth and remain agile in coming up with innovative ways to improve our situation. There is no room for complacency. The challenge to the JDS scholars is not just to build one's individual knowledge. Rather, it is to go forth and help build a system in the Philippines that can deliver solutions as the need arises," said JICA Chief Representative in the Philippines AZUKIZAWA Eigo.
The returning Filipino scholars came from the National Economic and Development Authority, Department of Finance - Bureau of Internal Revenue, Philippine Statistics Authority, Department of Trade and Industry, Department of the Interior and Local Government, Local Government Unit of Cabanatuan City, Public Private Partnership Center of the Philippines, Department of Budget and Management, Department of Labor and Employment, Department of Public Works and Highways, and Department of Science and Technology. They completed their graduate studies in some of Japan's leading universities, namely Nagoya University, International Christian University, International University of Japan, Hiroshima University, Kobe University, Meiji University, and Japan's National Graduate Institute for Policy Studies (GRIPS).
An online presentation seminar was conducted, where six (6) of the scholars presented their research to members of the JDS Operating Committee (OC) (Embassy of Japan, National Economic and Development Authority, Department of Foreign Affairs, Civil Service Commission, Japan International Cooperation Agency, and Japan International Cooperation Center) and their respective organizations. The research topics presented included those on corporate tax management, the Philippines' preferential trade agreements with different countries, the Assistance to Municipalities Program (AMP), solid waste management, bridges reinforcement through anti-corrosive materials, and building ventilation. The OC members and the scholars' colleagues were able to discuss their comments, recommendation, and possible ways forward relative to the researches conducted. In particular, NEDA OIC-Undersecretary for Investment Programming, Mr. Jonathan Uy, raised that further discussions may be conducted to explore the potential for nationwide scale-up of the study on Assistance to Municipalities Program (AMP) conducted in municipalities of Region 3 in the Philippines by Mr. Arce Fajardo of DILG Central Office, scholar in Meiji University.
To date, 340 Filipinos have been recipients of the JDS grant since 1999. To know more about the program and scholarship opportunities for AY 2021-2022, please visit http://jds-scholarship.org/country/philippines/index.html.
Mr. Arce Fajardo, one of the Batch 16 JDS Scholars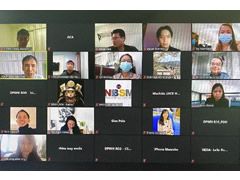 A screenshot during the JDS Presentation Seminar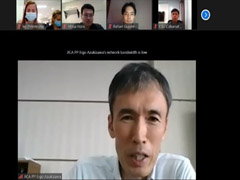 JICA Chief Representative AZUKIZAWA Eigo delivers the closing remarks for the JDS Presentation Seminar of its 16th Batch of Fellows.
The Philippine side was headed by OIC-Undersecretary Jonathan L. Uy of NEDA, the implementing organization of JDS in the Philippines.