The construction of the new additional 94-meter Multi-Role-Response Vessels (MRRVs) under the development assistance of the Japan International Cooperation Agency (JICA) began this week at a safety prayer ceremony in Japan.
The ceremony marks the commencement of the construction of the two additional MRRVs under the Maritime Safety Capability Improvement Project Phase II of JICA and the Philippine Coast Guard (PCG) amounting to 16.455 billion yen. The PCG flagship vessels is targeted to be delivered within the Duterte Administration.
The project is part of JICA's support to Philippine sustainable development efforts particularly in promoting maritime safety and security, while addressing maritime accidents, aging vessels, and search and rescue during frequent natural disasters. The MRRVs will feature a helicopter hangar and equipment for helicopter operations, marine environmental protection room, and use of special clad steel plate durable for extreme weather condition.
"The new MRRVs form part of our continuing support to PCG and to the Philippines' especially in the new normal and in facilitating maritime law enforcement and commitment in promoting a Free and Open Indo Pacific regime," said JICA Philippines Chief Representative AZUKIZAWA Eigo.
The Shinto ceremony in Japan was led by the project contractor, Mitsubishi Shipbuilding Co. Ltd.. Officials from the Department of Transportation, PCG, Embassy of Japan, and JICA attended virtually.
It is a Japanese tradition to hold a prayer ceremony for safe construction. This will be followed by block assembly, which involves steel cutting for parts of the vessel, in preparation for the keel laying, considered as the first major milestone in the construction of a vessel.
From 2016 to 2018, the Japanese government through JICA provided the Philippines with ten 44-meter MRRVs to support the country's maritime safety and security. Already, the government has used these vessels in COVID-19 response efforts such as transporting medicines and medical supplies, ferrying stranded tourists to their sweeper flights, and securing the cruise ships quarantined in Manila Bay.
Aside from the construction of new MRRVs, JICA also organized shore-based and ship-based training for 45 PCG personnel on vessel maintenance, troubleshooting engine and equipment, machinery management, and safety at work.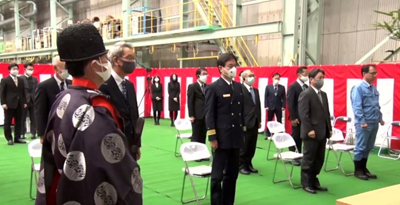 Safety prayer ceremony in Japan