The Metro Manila Subway Project (MMSP) is set to start underground excavation work as the first Earth Pressure Balance Tunnel Boring Machine (TBM) with a diameter of 6.99 meters arrives in the Philippines last week.
The MMSP is one of the interventions identified to decongest Metro Manila traffic and promote economic growth in the Philippines. A partnership between the Japan International Cooperation Agency (JICA) and the DOTr, the subway project will help expand the Philippines' existing railway lines and ensure seamless mobility of people.
A Joint Venture of Japanese and Filipino contractors had ordered the TBM to a Japanese company in consideration of Japan's expertise in railway building. The subway project will apply Japan's railway and seismic design technology to help the subway withstand earthquakes and prevent flooding.
"We welcome the move of the Philippine government to speed up construction of the subway despite COVID-19. We recognize the safety protocols they are putting in place to make sure that this project moves forward. Once completed, the first phase of the Metro Manila subway can help create economic opportunities and ease traffic congestion in the Philippines," said JICA Philippines Chief Representative AZUKIZAWA Eigo.
A JICA Follow-Up Survey on Roadmap for Transport Infrastructure Development for the Greater Capital Region showed that without interventions, economic costs of transportation in Metro Manila will reach P5.4 billion a day by 2035.
When completed, the subway will connect the city's business districts and is projected to serve an initial 365,000 passengers daily upon opening with 40 minutes travel time from north to south and vice versa in Metro Manila. The subway will likewise be connected to the city's existing railway lines such as the Metro Rail Transit (MRT), Light Rail Transit (LRT), North-South Commuter Railway (NSCR), and Philippine National Railway (PNR).
Aside from the subway project, JICA is supporting other key infrastructure projects under the Philippines' Build Build Build program and key transport infrastructure such as the North-South Commuter Railway Project, Metro Rail Transit Line 3 Rehabilitation Project, Light Rail Transit (LRT) Line 1 Cavite Extension Project, and LRT Line 2 East Extension Project.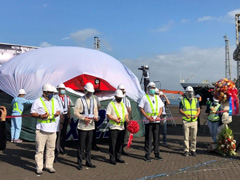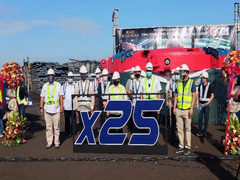 Photos from TBM Arrival Ceremony