The Japan International Cooperation Agency (JICA) is working in tandem with health institutions in enhancing disease surveillance in the Philippines to help curb rising COVID-19 cases.
The COVID-19 pandemic highlighted the need to strengthen health systems particularly the network of laboratories for surveillance, detection, and response to emerging infectious diseases including COVID-19. Japan's bilateral aid agency is working with the Department of Health (DOH) in formulating a technical cooperation project which aims to strengthen the Philippine laboratory network's capacity on disease management and biosafety.
"The COVID-19 crisis reminds nations of the strengths and weaknesses of public health systems. By working with JICA's existing institutional partners in the Philippines, we aim to help develop a roadmap as well as manuals and training modules to boost the Philippines' response strategies," said JICA Philippines Senior Representative OHSHIMA Ayumu.
JICA has provided equipment to the Research Institute for Tropical Medicine (RITM) and San Lazaro Hospital to boost the Philippines' testing capacity, support disease surveillance, and enhance the country's COVID-19 data management.
Another support of JICA in the Philippine COVID-19 response is the scheduled provision of medical supplies to DOH drug treatment and rehabilitation centers to minimize exposure and infection in said facilities. JICA has an ongoing project with these drug rehabilitation centers to introduce evidence-based relapse prevention program among drug dependents.
"One way to go forward is to help improve the Philippines' laboratory and surveillance network to help the Philippines also prepare for future public health crisis," said Senior Representative OHSHIMA.
In 2020, JICA has joined other international organizations in supporting the financing of the Philippine COVID-19 response and recovery through a 50-billion yen COVID-19 Crisis Response Emergency Support Loan and another 50-billion yen Post-Disaster Standby Loan 2.
Further, JICA reiterated its support to the Philippines through its more than 70 ongoing projects that impact various sectors such as railways, roads and bridges, maritime safety and security, investment promotion, energy, environment, disaster risk reduction and management, agriculture, social development, and Mindanao peace and development.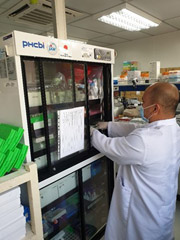 Pharmaceutical refrigerator provided to RITM will ensure safe and secure storage of temperature sensitive pharmaceuticals, medicines and, biologicals.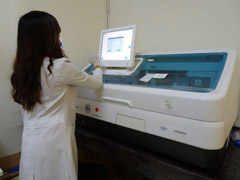 The cobas e 411 analyzer provided to San Lazaro Hospital is a fully automated analyzer that has high sensitivity, reliability, and reproducibility of results which uses ElectroChemiLuminescence (ECL). technology for immunoassay analysis that can be used for a broad range of applications including infectious diseases.