Japanese company Okada Manufactory Co. Ltd., the local government of Legazpi City, and the Department of Environment and Natural Resources (DENR) inaugurated recently a composting facility that will help transform wastes into organic fertilizers and promote sustainable waste management at the local level.
The project is under the Japan International Cooperation Agency (JICA) Partnership with the Private Sector scheme called SDGs Business Supporting Surveys, where Japanese enterprises introduce innovations to solve social problems in JICA partner countries.
A feasibility study of the project showed that only 3% of waste materials are composted in Bicol. With the composting technology from Okada, raw waste processing is expected to increase by 20 times or 0.5 to 10 cubic meters per day. The processed wastes may then be used by farmers to fertilize agricultural lands and save production costs compared to using chemical fertilizers.
"The COVID-19 pandemic saw many transformations on approaching challenges in development. Teaching farmers new approaches and methods in sustainable, organic farming can help direct new opportunities to agriculture. Thus, sharing Japanese innovations to local farmers can help improve agriculture productivity, while at the same time promote a win-win relationship between Japanese investors and Filipino farmers," said JICA Philippines Senior Representative HIROSAWA Jin.
Under Republic Act 9003 or the Ecological Solid Waste Management Act of 2000, local governments are mandated to divert at least 25% of solid wastes from waste disposal facilities through reuse, recycling, composting, and other resource recovery activities.
Thus, the new composting facility is seen to complement Legazpi City's local government efforts to manage solid waste and promote organic farming using organic fertilizers.
Aside from working with local government, Okada is also partnering with local company Coco Technology Corp. for local assembly of composting equipment for export to Japan and to Southeast Asia.
The JICA Partnership with Private Sector scheme began in 2012 and has since supported technology transfer, human resource development, and job creation in the Philippines. Aside from the environment, it also supports sectors such as agriculture, disaster management, education, and welfare.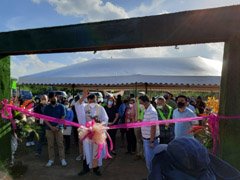 Blessing of the facility and equipment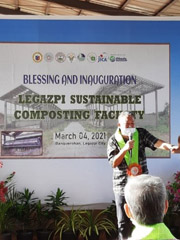 Inauguration ceremony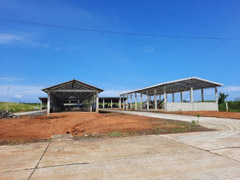 Overview of the facility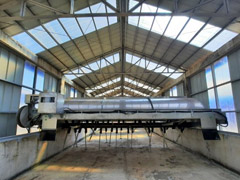 Composting machine