Prior to the closure of schools brought by strict quarantine measures to contain COVID-19, schools in Cebu have underscored the importance of disaster education in the school curriculum.
Pilot schools under a grassroots technical cooperation project of Japan International Cooperation Agency (JICA), non-profit group SEEDS Asia, and Department of Education (DepEd) Region 7 came up with operations and response manuals as well as disaster risk reduction and management model to promote disaster education. For now, teachers in these pilot schools in Bogo, Carcar, Cebu, Daanbantayan, Danao, LapuLapu, Mandaue, Naga, Talisay, and Toledo in Cebu Province have disseminated localized response manuals patterned after Hyogo Framework blueprint for disaster education.
The project Promotion of School Disaster Risk Reduction and Management in Cebu Province trained teachers and students on DRR practices that Japan's Hyogo Prefecture Board of Education also developed. The Hyogo Prefecture was site of the 1995 Great Hanshin-Awaji Earthquake and has actively promoted DRR lessons in management and recovery in other countries.
"The project helped Cebu schools to increase capacity in identifying hazards, crafting mitigating measures, and disaster response mechanisms. In the future, learnings from the project may be used in developing extensive manuals amid COVID-19 and broadening the knowledge and skills of educators towards a safe and resilient learning environment," said Ranilo Edar, Regional DRRM Focal Person of DepEd in Cebu.
Even before the COVID-19 public health disasters, schools in the Philippines have been threatened with typhoons and other natural hazards. During Typhoon Yolanda, damage to school infrastructure alone amounted to P174 million. Thus, the Cebu project trained teachers and some 25, 325 students on disaster response.
The COVID-19 pandemic has prompted closures of hundreds of schools in the Philippines and brace for new normal protocols once school openings are in place. The threat of COVID-19 has also added new pressure to enhance disaster management and education in Philippine schools.
"The lessons from the project are also being disseminated to other schools outside Cebu. That way, we do not reverse the Philippines' progress in DRR education and instead make this an important part of the school curriculum towards building a safer, resilient post-pandemic society," said JICA Senior Representative OHSHIMA Ayumu.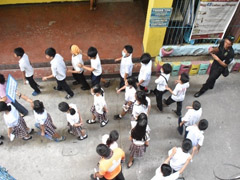 Disaster simulation exercise at school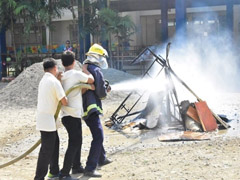 Fire fighting training with students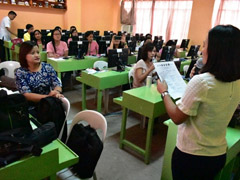 Teacher meeting for school safety inspection