A former volunteer from the Japan Overseas Cooperation Volunteers (JOCV) Program made a choice to live in the Philippines after completing her volunteer work in 2008 to support the local dairy sector.
YAMAKI Kumiko was among the young Japanese professionals sent to the Philippines in 2008 as a part of the development cooperation activities of the Japan International Cooperation Agency (JICA). She was assigned to the National Artificial Breeding Center (NABC) under the Bureau of Animal Industry where she helped systematize data on cattle breeding to boost the country's quality meat production.
Japanese volunteers like Yamaki come to the Philippines to share their technical expertise to help fill the gap in the sector through technology transfer, breeding techniques, and product development.
"When my volunteer work ended in 2010, I returned to the Philippines in 2011 and chose to stay here to support dairy farmers and create jobs for the local people," shared Yamaki.
Data from the National Dairy Authority (NDA) showed that total dairy production has improved in 2020 at 26.71 thousand metric tons level. Unfortunately, the Philippine dairy sector continues to rely on imports to address local demand with dairy imports at 2.9 million metric tons in 2020.
Yamaki established a dairy business firm together with her husband to create jobs in a local farming community in Tarlac and they are now producing around 50,000 liters of fresh milk to address local demand. "When we were starting, we had a hard time marketing the products but over time, we earned the trust of local customers and are able to address their changing needs and priorities," said Yamaki.
Her family also continues to connect with her former counterparts in NABC who also support her dairy business. She said the Philippines has become home for her family, who have developed friendships, and in a way, contribute to the dairy sector.
With the pandemic situation, Filipino dairy farmers need all the support they can get. With more consumers paying attention to supporting local sources and businesses they trust, Yamaki's efforts to help create livelihood is one way to help farmers stay in the sector, and survive in these uncertain times.
See more at https://youtu.be/2fd-UXqd0jA (external link)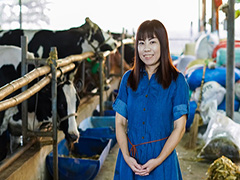 YAMAKI Kumiko at her dairy farm in Tarlac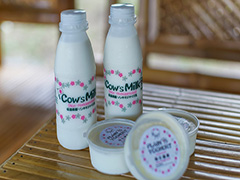 Yamaki's farm produces fresh milk and yogurt mostly distributed to Metro Manila and nearby regions