The Japan International Cooperation Agency (JICA) announced that it will continue to support the rehabilitation of transport infrastructure despite the pandemic to help revitalize the city's economy and support the return of residents displaced during the 2017 Marawi siege.
It can be recalled that massive infrastructure including roads were destroyed during the siege and displaced 98% of the population in Marawi.
This year, JICA said it will continue to work with the Department of Public Works and Highways (DPWH) to commence rehabilitation of the Marawi Transcentral Road Project Phase III, an 18.78 kilometer road rehabilitation project amounting to approximately P700 million.
The road project is part of the USD 202.04 million Road Network Development Project in Conflict-Affected Areas in Mindanao (RNDP-CAAM) that aims to construct and improve access roads to arterial roads in Mindanao to boost economic development while supporting peacebuilding efforts.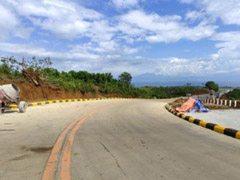 Completed road section of Marawi Transcentral Road I and II
Photo courtesy of DPWH
In 2018, JICA also offered to help in the rehabilitation and recovery of Marawi through the rehabilitation of Marawi Transcentral Road Phases I and II under a 2 billion yen grant aid.
In addition, JICA is also assisting on grant basis the detailed design study of two road projects in conflict affected areas that are not included under the official development assistance (ODA) loan financing for RNDP-CAAM.
"Rebuilding transport infrastructure will make a huge difference in the lives of people of Marawi. When completed, they will provide better access to basic services, increase trade, as well as create more jobs and contribute to economic growth in the region," said JICA Philippines Chief Representative AZUKIZAWA Eigo. "Further, building transport infrastructure in conflict-affected areas like Marawi will help boost peacebuilding efforts in Mindanao and open up opportunities for people to improve their quality of life."
Prior to the 2017 Marawi siege, the city used to be a trading hub in Mindanao. With damaged access roads, surrounding communities like Maguindanao, Cotabato and Zamboanga find it difficult to access Marawi's trading center.
JICA has been actively supporting the peacebuilding efforts in Mindanao since 2002 through community development, livelihood support, capacity building, and road network support, as well as the recent capacity development project to support transition to Bangsamoro government.