As a move to further boost the agriculture sector in this time of pandemic, an irrigation system in San Fabian, Pangasinan was inaugurated Friday (July 9) as part of a nationwide cooperation to rehabilitate and improve irrigation systems.
The project is part of the ongoing National Irrigation Sector Rehabilitation and Improvement Project (NISRIP) of the National Irrigation Administration (NIA) in collaboration with the Philippine Rice Research Institute (PhilRice) and in partnership with Japan International Cooperation Agency (JICA).
The rehabilitated San Fabian irrigation system is seen to increase farmers' yield from 3.7 to 5.0 tons per hectare during wet season and from 4.0 to 4.8 tons per hectare during dry months, benefiting more than 1,565 farmers in the area.
"Philippine agriculture reported growth despite the pandemic, and this project can help enhance the potential of this sector in economic recovery. There are several other industries closely linked to agriculture and by helping raise farmers' productivity through better infrastructure, the multiplier effect to the economy will be further realized," said JICA Senior Representative OHSHIMA Ayumu.
NISRIP has been empowering Filipino farmers by raising their productivity and improve their income. NIA is implementing the project that also covers other farming communities in Ilocos Norte, Pampanga, Quezon, Palawan, Iloilo, Bukidnon, Davao del Sur, Maguindanao, Sultan Kudarat, and Agusan del Sur. Overall, some 25,000 farmers are seen to benefit from this development cooperation.
Aside from rehabilitating and improving irrigation systems, NISRIP also supports capacity building of farmers and irrigators associations in operating and maintaining the infrastructure.
As of late, there had been 5 irrigation systems rehabilitated in the Philippines under NISRIP.
Since the 1960s, JICA has been supportive of the Philippine agriculture sector, with about 7% of JICA's Official Development Assistance (ODA) allocated to the sector. The Japanese bilateral aid agency likewise helps enhance the value chain including not only production but also processing, distribution and consumption of agriculture products.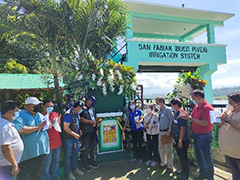 L-R: San Fabian Mayor Constante Agbayani, San Jacinto Mayor Leo De Vera, NIA Deputy Administrator for Admininstration and Finance Romeo Gan, NIA Administrator Ricardo Visaya, JICA Senior Representatives OHSHIMA Ayumu and SHIMIZU Mikako, NISRIP Project Manager Silvino Navarro, NIA Regional Manager Angelito Miguel and Pangasinan Board Member Nestor Reyes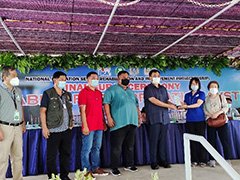 L-R: NISRIP Project Manager Silvino Navarro, NIA Regional Manager Angelito Miguel, San Jacinto Mayor Leo De Vera, San Fabian Constante Agbayani, 4th District Pangasinan Representative Christopher De Venecia, JICA Senior Representatives OHSHIMA Ayumu and SHIMIZU Mikako

San Fabian River Irrigation System in Pangasinan