A disaster preparedness mobile application is helping provide information and resources to residents of La Trinidad, Benguet to better prepare for disasters and other emergencies.
The La Trinidad Municipal Disaster Risk Reduction and Management Office (MDRMMO) Esaganak app is designed to aid the municipality to become more disaster resilient by featuring a disaster prevention map of evacuation centers, link to the MDRRMO website, Go Bag checklist for emergency supplies, hotline numbers related to disaster preparedness, and safety confirmation for sending status and messages to La Trinidad MDRRMO.
Esaganak means "I'm going to prepare" in Ilocano language. The mobile application is easily downloadable at Google Playstore for free, except for some functions that require data communication.
As July marks the Philippines' National Disaster Resilience Month and the anniversary of the 1990 Baguio earthquake, the application provides an avenue for communities in La Trinidad to be prepared for disasters and take immediate action so their loved ones can remain safe.
The application was developed in partnership with former Japanese volunteer Ryunosuke Ichikawa in 2020 under the Japan International Cooperation Agency (JICA) Japan Overseas Cooperation Volunteers (JOCV) Program.
"While our Japanese volunteers' dispatch had to be cut short because of the pandemic in 2020, JICA lauds the local disaster management council of La Trinidad for using the tool that the volunteer developed. JICA believes that this mobile application will be a useful tool for the people of La Trinidad to access information when disaster strikes. We look forward to seeing the continuity and improvement of the Japanese volunteer's disaster management activities to help save more lives," said JICA Senior Representative Jin Hirosawa.
Ichikawa was one of the 31 Japanese volunteers dispatched in the Philippines before the pandemic happened. He graduated from Chiba University in Japan and was working as a specialist in Geographic Information System (GIS) mapping in Japan before volunteering in the Philippines. He used this skill in helping map the hazards and evacuation centers in La Trinidad.
The JICA JOCV program has been supporting wide development areas in the Philippines aside from disaster management. Other volunteers had been dispatched to support education, agriculture and fishery, industry, health, social services, and science, technology, and innovation.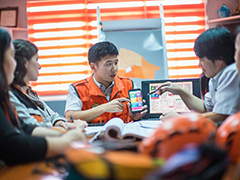 Japanese volunteer Ryunosuke Ichikawa discussing the functionality of the app with counterparts from the La Trinidad Disaster Risk Reduction and Management Office
The La Trinidad MDRRMO Esaganak app is available for download at:
https://play.google.com/store/apps/details?id=com.latrinidad.esaganak&hl=en&gl=US (external link)