Businesses and residents in Cavite's flood-prone areas can now worry less of rising flood waters with the completion of the Imus River Basin subproject in time for the monsoon season.
Climate change has meant more unpredictable weather with flood-prone areas experiencing extreme inundation. The Imus Retarding Basin has a holding capacity of 35 hectares while Bacoor Retarding Basin, that has two temporary storage ponds or basins connected by sluiceway, has a total of 9 hectares that will help contain floodwaters during a storm and reduce peak volume of flood in Imus and Bacoor rivers. The project is a part of the PHP 3 billion (JPY 7.54 B) Flood Risk Management Project in Cagayan River, Tagoloan River, and Imus River of the Japan International Cooperation Agency (JICA) and Department of Public Works and Highways (DPWH).
"Taking into account the combined expertise of Japanese and Filipino engineers, the Imus River Basin Subproject is made up of flood mitigating structures in Bacoor and Imus to help ease flooding in low-lying areas of Cavite. The retarding basin feature of the project is the first-of-its-kind man-made reservoir project in the Philippines that serves as a temporary storage pond to contain water during heavy rains, helping save lives and property," said Chief Representative AZUKIZAWA Eigo during the project's inauguration this week. "This project will also help business continuity in industrial zones in Cavite, who in one way or another, are adversely affected when floor waters rise."
Imus River has large flow capacity because of its riverbeds. Its backwater and river slopes occasionally cause serious flood overflow and extensive inundation along the low parts of tributaries including Bacoor River. These retarding basins temporarily store most of the rainwater run-off during very high rainfall and later release this back to the river at regulated flow rate.
JICA stressed the role of partnership among JICA, local government, and national agencies in successfully implementing flood-mitigating measures. Aside from flood management, JICA also supports disaster risk education, feasibility studies, and capacity enhancement in several cities and frontline disaster agencies in the Philippines.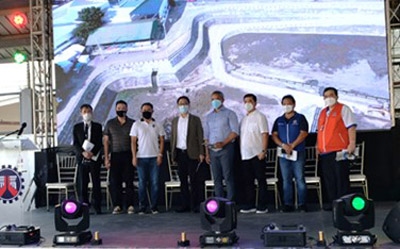 JICA Chief Representative AZUKIZAWA Eigo (leftmost) with Japanese Ambassador to the Philippines KOSHIKAWA Kazuhiko (4th from left), DPWH Secretary Mark Villar (3rd from left), Cavite Governor Juanito Victor "Jonvic" Remulla (4th from right), and other distinguished guests during the inauguration.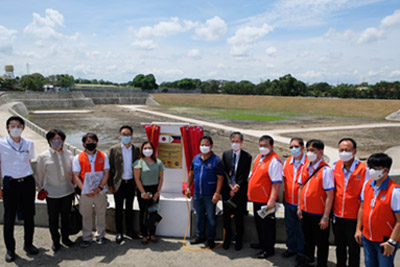 Officials from JICA, DPWH, and Embassy of Japan (EOJ) overlooking the Imus River Basin during the inauguration.