The Japan International Cooperation Agency (JICA) continues to award scholarships to Filipino professionals in the energy sector to develop its human resources with deep understanding on public policy analysis and management.
JICA sent a senior science research specialist from the Department of Energy (DOE) to study Public Policy at Tokyo's National Graduate Institute for Policy Studies (GRIPS) under the JICA Knowledge Co-Creation Program Long-Term Training Program (KCCP-LTTP).
Michael Leabres received the JICA KCCP-LTTP scholarship for Energy Policy in October 2020 despite the pandemic. His research focused on "Effects of Renewable Energy Development on Power Supply Security and Economic Growth in the Philippines." Leabres said, "The JICA scholarship provided me with fundamental background in policy formulation and program development. The program broadened my knowledge on the energy sector at a global level. While it became a daunting task because of the pandemic, the study opportunity helped me build my network and meet experts and counterparts working in the energy sector from different countries."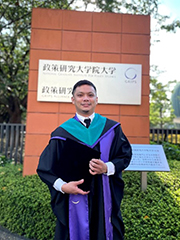 To date, the Philippines has yet to step up on promoting sustainable energy. Over the years, the Philippine Statistics Authority (PSA) recorded a trend of diminishing renewable energy (RE) share in the Philippines vis-à-vis total energy consumption. This spurred the DOE to pursue a more aggressive approach, particularly in building technical competencies in the energy sector through cooperation.
Based on Leabres' research, accelerating renewable energy development in the Philippines would require "recalibrating regulatory procedure, making available infrastructure support, implementing research and development initiatives on new technology and other RE policy mechanisms as well as raising awareness among students and younger generation."
Leabres reveals his plans to translate his learnings from his course to his work in the DOE through "evaluating the effectiveness of existing policies as well as in crafting a new set of practical energy strategies, plans, and programs that are responsive to the needs of the Filipino people."
"The JICA KCCP reinforces JICA's commitment to support human resource development in the Philippines. When the KCCP was first established, it intended to promote dialogue and collaboration with JICA partner countries. Now, it has become a platform for JICA and the Philippines to grow and develop together through mutual learning," said JICA Chief Representative AZUKIZAWA Eigo.
Every year, JICA offers an array of scholarship opportunities for Filipino professionals in the development sector. To learn more about the JICA KCCP and other training programs, visit https://www.jica.go.jp/philippine/english/activities/activity_01_05.html