The National Irrigation Administration (NIA) and the Japan International Cooperation Agency (JICA) recently turned over two newly-rehabilitated irrigations systems in Ilocos Norte as boost to the Philippine agriculture sector.
The Solsona River Irrigation System and Madongan River Irrigation System form part of the 6.187-billion yen National Irrigation Sector Rehabilitation and Improvement Project (NISRIP) of NIA, in collaboration with the Philippine Rice Research Institute (PhilRice) and JICA. NISRIP is rehabilitating eleven (11) national irrigation systems all over the country to benefit more than 25,000 Filipino farmers.
The rehabilitated and improved irrigation systems in Ilocos Norte will benefit around 8,149 farmers.
"The pandemic has emphasized the need to promote resilience in agriculture by strengthening farm production capacities and the food supply chain. Through NISRIP, we look forward to helping farmers explore high-value opportunities in agriculture and also, addressing food security challenges," said JICA Philippines Chief Representative AZUKIZAWA Eigo.
NIA Deputy Administrator Freddie M. Toquero cited that "the newly rehabilitated and improved Madongan and Solsona river irrigation systems will provide reliable irrigation services to more than 3,000 hectares of farm lands benefitting a total of 19 barangays in the municipalities of Dingras, Marcos and Solsona in Ilocos Norte."
JICA noted that the value of crop production in the Philippines grew modestly in 2020 despite the pandemic, at P982 billion and the newly rehabilitated irrigation systems can play a role in further adding economic value to local agriculture's growth.
Other NISRIP sites include Pangasinan, Pampanga, Quezon, Palawan, Iloilo, Bukidnon, Davao del Sur, Maguindanao, Sultan Kudarat, and Agusan del Sur.
Since the 1960s, JICA has supported the Philippine agriculture sector through infrastructure, capacity building, agribusiness development, and sharing of Japanese technology and knowhow to improve production, processing, distribution, and consumption of agriculture products.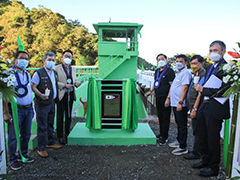 Ambassador KOSHIKAWA Kazuhiko and Solsona Mayor Joseph De Lara, together with JICA and NIA officials led the unveiling of marker at Solsona Diversion Dam.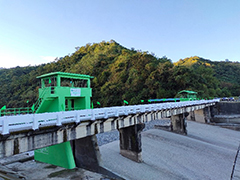 The newly rehabilitated and improved Solsona Diversion Dam in Ilocos Norte.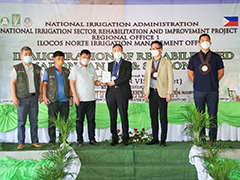 JICA Chief Representative AZUKIZAWA Eigo receives a Plaque of Appreciation from NIA Deputy Administrator Freddiq M. Toquero during the Inauguration Ceremony of the newly rehabilitated Madongan and Solsona river irrigation systems.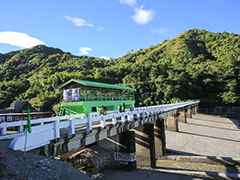 The newly rehabilitated and improved Madongan Diversion Dam in Ilocos Norte.