A total of P18M agroforestry support facilities (ASF) were completed in Nueva Vizcaya and turned over to some 2,600 beneficiaries under a development cooperation project of Department of Environment and Natural Resources (DENR) and Japan International Cooperation Agency (JICA).
The ASF is part of the 9.244-billion-yen Forestland Management Project that seeks to protect some 71,300 hectares of forest resources in the Philippines' major watersheds in Nueva Vizcaya, as well as in Iloilo, Ifugao, Quirino, and Nueva Ecija.
The agroforestry facilities completed in Nueva Vizcaya include an irrigation pipeline system, a pathway, and a 45-meter hanging bridge. The facilities will support people's organizations and local residents in terms of access to basic services and markets and support in reforestation work.
"Aside from protecting the watersheds and ensuring that water supply sources are resilient, the project also aims to support job creation in communities by building their capacity on sustainable forest management and enterprise development," said JICA Chief Representative AZUKIZAWA Eigo. "The pandemic and climate change problems are making all of us rethink the way we manage natural resources and ensure that they are sustainable for the enjoyment of future generations."
The projects in Nueva Vizcaya will help conserve some 140 hectares of forest areas and benefit people's organizations and indigenous communities in the watershed areas.
To date, some 149 people's organizations have been capacitated by the project in terms of organization management, finance, and enterprise development.
Over the years, JICA has been supporting environment-related projects in the Philippines as part of its Official Development Assistance (ODA). Aside from natural environment conservation, JICA also supports projects in solid waste management, septage treatment and management, and sharing of Japanese technology in recycling wastes for renewable energy.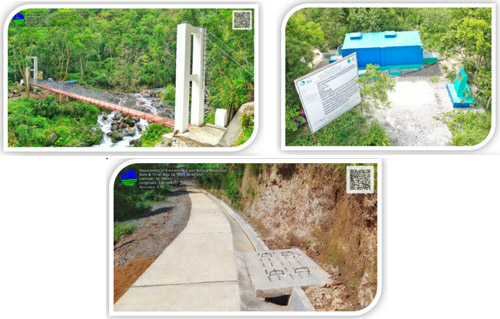 Various ASF Subprojects in Nueva Vizcaya including Udongaw Hanging Bridge (upper left), Kalinga Irrigation Pipeline System (upper right), and Latbang Pathway (lower mid). Photos from DENR-EMB.