A program of the Japan International Cooperation Agency (JICA) designed to groom aspiring entrepreneurs conferred awards to three Filipino start-up companies during a pitch event with Japanese and Southeast Asian investors held recently.
The JICA NINJA (Next Innovation with Japan) Accelerator Program have shortlisted 15 start-up firms from the Philippines, Indonesia, Malaysia, Thailand, and Bangladesh who pitched their business ideas to over 60 Japanese venture capitalists and investors in the project's business matching event. Filipino company Packworks won first place in the Best Performing Startups category followed by Plentina, and Mayani.
The Filipino start-up winners offer services that cater to underserved sectors of the economy such as microentrepreneurs, consumers without credit cards, and farmers. Packworks offers micro-entrepreneurs like sari-sari store owners access to business capital, tools, and insights. Plentina, on the other hand, offers store credits to ordinary consumers, and Mayani is an e-commerce platform that connects farmers to markets and investors.
"JICA would like to recognize the Filipino entrepreneurs who have exemplified great ingenuity in their business ideas to create more employment for their fellow Filipinos," said JICA Chief Representative AZUKIZAWA Eigo. "Further, we thank them for participating in the JICA accelerator program and exploring possible partnerships with Japanese investors."
The JICA NINJA Accelerator Program is an initiative of JICA to increase private sector participation in development and at the same time, groom entrepreneurs and give them opportunities to build and scale their innovation while contributing to the Sustainable Development Goals (SDGs). Participants of the program receive mentoring and business matching support.
The final pitching and awarding event during Demo Day 2 held last January 27, 2022 can be viewed on YouTube in this link: https://www.youtube.com/watch?v=s8VbTQN6Hro (external link)
In recent years, JICA has been tapping the participation of the Japanese private sector in Official Development Assistance (ODA) projects to promote economic development in both Japan and its partner countries. Aside from Project NINJA, JICA has implemented several private sector projects in the Philippines to promote technology and innovation in areas such as agriculture, environment, disaster management, welfare, and education among others.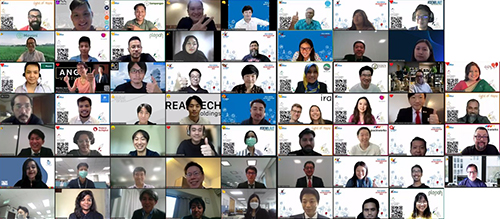 During the JICA NINJA Accelerator Demo Day 2 with some 60 investors from Japan and Southeast Asia.