A project of the Japan International Cooperation Agency (JICA) and Department of Environment and Natural Resources (DENR) turned over P67.5 million worth of Agroforestry Support Facilities (ASF) to local government units (LGU) of Nueva Vizcaya to be utilized by upland farmers in the protection and maintenance of forestlands.
JICA announced that the ASF includes irrigation pipeline systems, a pathway, an access road, and a bridge to support upland farmers in developing enterprises, conserving the watershed, and receiving access to basic services. Said infrastructure facilities were part of an ongoing 10-year cooperation of JICA and DENR called Forestland Management Project (FMP) that seeks to conserve the Philippines' major watersheds in Iloilo, Ifugao, Nueva Ecija, Nueva Vizcaya, and Quirino.
FMP is an ongoing project of JICA and the DENR that has been helping protect some 71,300 hectares of forestlands in the Philippines.
"The pandemic and climate change affect conservation and land stewardship in the Philippines' forestlands. As development partners and neighbors, JICA will continue to support environment management initiatives in the Philippines since such efforts are connected to mitigating the impact of climate change, securing clean air, water, and food, and providing livelihood to farmers and communities," said JICA Chief Representative AZUKIZAWA Eigo.
The Sustainable Development Goals (SDGs) 2021 Report on the Philippines' progress vis-a-vis achieving the SDGs, specifically on SDG 15 Life on Land, indicated that major challenges remain in the country's sustainable management of forests, among others.
Aside from infrastructure building, the FMP eyes building the capacity of 149 people's organizations to help conserve what is remaining of Philippine forests. The project helps build the capacity of these organizations on finance and enterprise development with the end-goal of helping conserve forest areas.
Apart from forestland management, JICA's recent support to environment management in the Philippines includes projects such as the assessment and conservation of blue carbon ecosystems in the Coral Triangle, and solid waste reduction and management initiatives.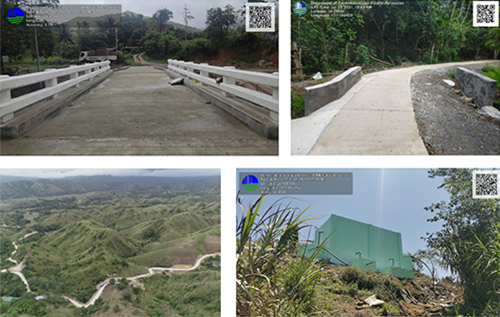 Clockwise from top left: Lower Parai Flat Slab Bridge; Sitio Bingo Pathway; Mt. Pulol Irrigation Pipeline System; and Kalinga Access Road, all in Nueva Vizcaya. Photos courtesy of the DENR.