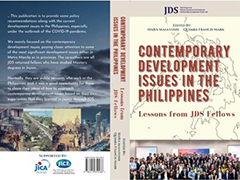 Cover of the JICE Publication "Contemporary Development Issues in the Philippines: Lessons from JDS Fellows.
A book marking the long-lasting role of Filipino scholars in Japan play in addressing contemporary development issues in the Philippines was launched on January 2022 by the Japan International Cooperation Center (JICE).
The book, "Contemporary Development Issues in the Philippines: Lesson from JDS Fellows", accounts the experiences of Filipino scholars (hereby referred to as JDS fellows) during their studies in premier Japanese universities and exposure to Japanese life and culture under the
"Project for Human Resource Development Scholarship by Japanese Grant Aid (JDS Project)" of the Government of Japan.
"JICA hopes that the book will inspire Filipino and Japanese readers on how we can work together for the development and advancement of our countries through knowledge-sharing and development cooperation. JICA welcomes this publication that also shows how JDS fellows help strengthen the bonds of our nations and eventually contribute to development in the Philippines after their studies in Japan," said JICA Senior Representative HIROSAWA Jin.
A chapter of the book on People to People Exchange in a Changing World discussed JDS vis-a-vis JICA's Official Development Assistance (ODA) in the Philippines. As a top ODA donor of the Philippines in 2020 based on the National Economic and Development Authority (NEDA) ODA Portfolio Review, JICA has continuously provided assistance to various development sectors amid the pandemic. JICA's Knowledge Co-Creation Program (KCCP) has been accepting around 120 Filipino professionals as trainees and scholars every year to training programs that immerse them to Japanese culture and provide them knowledge about Japanese technology and know-how. Online courses have also been implemented in response to the challenges brought about by the COVID-19 pandemic.
The JDS has sent around 400 Filipinos to Japan as JDS fellows since it was implemented in the Philippines in 2002.
The other chapters tackled JDS returned fellows' insights on digital economy, agriculture modernization, road infrastructure, resiliency to natural disasters, environment management, and finance.
Upon going back to the Philippines, JDS returned fellows have since been imparting their knowledge to their home government offices, some even promoted to high-level positions in government and appointed to policymaking posts.
Dr. HARA Masatoshi, the country officer and project manager of JICE in the Philippines, and Dr. Francis Mark Quimba, a senior research fellow of the Philippine Institute of Development Studies (PIDS) who is a JDS returned fellow himself and a MEXT scholar are co-editors of the book.
The book is on limited paperback edition and has a free online version accessible at: