The Japan International Cooperation Agency (JICA) appointed SAKAMOTO Takema as its new Chief Representative in the Philippines effective March 2022, following the leadership of AZUKIZAWA Eigo.
JICA is the Philippines' largest bilateral Official Development Assistance (ODA) partner, with over 60 ongoing development cooperation projects nationwide across key development sectors.
Prior to his appointment in the Philippines, SAKAMOTO held wide-ranging leadership positions in JICA for more than 30 years, including his post as Chief Representative in JICA Iraq and JICA India offices in 2011 and 2015 respectively. Early on in his career, SAKAMOTO also served as Representative of the Overseas Economic Cooperation Fund (OECF) in Beijing, China.
His previous roles in JICA also include key positions in the Infrastructure and Peace Building Department as well as in JICA's Middle East and Europe Department.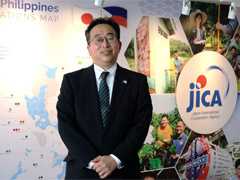 JICA Philippine Office new Chief Representative, SAKAMOTO Takema.
SAKAMOTO takes over from former Chief Representative AZUKIZAWA Eigo who steered JICA's operations in the Philippines amid the COVID-19 pandemic and enabled the implementation of key cooperation projects anchored on economic prosperity through quality growth, human security, and regional peace and stability.
"It's a great honor to be given the opportunity to lead JICA Philippine Office during this time as nations keep pace with recovery from COVID-19. JICA and the Philippines have built close ties and friendship over the years. Thus, I look forward to working with our Filipino counterparts through the basis of 'mutual understanding and respect' so that we can further enhance our trusted partnership through investments, sharing of Japanese knowledge and innovations, and other areas of cooperation," said SAKAMOTO, who is also a visiting professor in the University of Tsukuba, one of Japan's leading universities.
SAKAMOTO also served as Director General for the South Asia Department in headquarters of JICA, helming key cooperation centered on developing economic foundations and social protection with the concept of "No one left behind", ensuring peace and stability, and improving access to basic needs.
Since the 1960s, JICA has assisted various development areas in the country including railways, roads and bridges, disaster risk reduction, maritime safety and security, investment promotion, energy, environment, agriculture, and peace and development in Mindanao. To date, JICA is the Philippines' leading ODA partner, with total value of JICA programs amounting to JPY260 billion in 2020.