When the COVID-19 cases increased dramatically all over the world two years ago, it became a challenge for countries like the Philippines to operate effective disease surveillance systems.
To fill this gap and beat future pandemic, the Japan International Cooperation Agency (JICA) and Department of Health (DOH) signed the Record of Discussion for the Project for Strengthening the Philippine National Health Laboratory Network for Infectious Diseases recently. Secretary Francisco Duque of DOH and Chief Representative SAKAMOTO Takema of JICA agreed to proactively lead the capacity development of the country's laboratories and strengthen future response to emerging infectious diseases.
According to DOH, there were only 17 laboratories capable nationwide of doing COVID-19 testing at the onset of the pandemic in April 2020 and only 12 out of the 17 Regional Epidemiology and Surveillance Units were functional. While, as of April 2022, the number of COVID-19 testing laboratories has increased to 334 and all of the 17 Regional Epidemiology and Surveillance Units are now functional, there is still serious needs to further capacitate the newly established laboratories in order to ensure that they will adhere to quality assurance guidelines, detect various infectious agents and provide real time laboratory date.
"The pandemic taught many countries the value of international cooperation. As we brace for economic recovery from COVID-19, this project will be valuable in strengthening public health systems and underscoring the role of effective data management and science-based policymaking in health emergencies, JICA, as the closest and most reliable development partner of the Philippines, is very keen to start the implementation of this essential cooperation project" said JICA Chief Representative SAKAMOTO Takema.
The project will assess the capacity of selected laboratories nationwide to develop a comprehensive plan for laboratory network system. The plan shall provide the guidelines for laboratory biosafety and biosecurity, management of the lab facility, and establishing a laboratory performance monitoring system among others.
Aside from this project, JICA has been providing comprehensive assistance to the Philippines' COVID-19 response and recovery since the onset of the pandemic in 2020.
To help the country steer its return to the path of sustainable, inclusive and resilient growth, JICA extended a total finance support of JPY 130B (equivalent to PHP 60B) from the Crisis Response Emergency Support Loan and Post-Disaster Standby Loan assistance.
To scale up technology and fill in testing gaps, JICA also provided about PHP 60M worth COVID-19 equipment and supplies to the Philippine health institutions like Research Institute for Tropical Medicine (RITM) and San Lazaro Hospital
To support doctors and healthcare workers provide healthcare remotely and lessen their exposure to the virus, telemedicine in the Philippines was strengthened as an intervention to make healthcare accessible. To this goal, JICA supported in training doctors from public hospitals on telemedicine and intensive care services.
And as the economy opens up, JICA also offered its lending hand in accelerating inoculations against COVID-19 throughout the Philippines, especially in remote areas through cold chain facilities. Likewise, logistics and supply chain support like refrigerated vans, delivery trucks, refrigerators, freezers, and biothermal packaging systems were also provided.
JICA's overall assistance on disease surveillance and other COVID-19 response systems, in the long term, can be seen as arsenal in the future pandemic and achieving a resilient public health system.
For many decades, JICA and the Philippines have been working together to address public health issues including the cholera outbreak in the country in the 1960s when the Philippine-Japan Joint Commission on Cholera Research established RITM.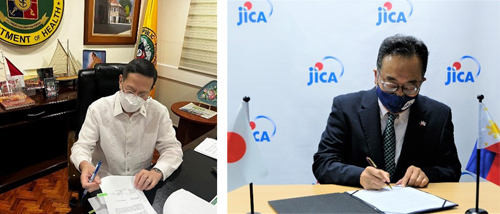 DOH Secretary Francisco Duque (left) and JICA Philippines Chief Representative SAKAMOTO Takema (right) signing the R/D.