In the Philippines, Japanese and Filipino scientists are rallying communities to help conserve mangroves and seagrass ecosystems as they contribute in climate change mitigation. The 2nd National Blue Carbon Symposium (NBCS-2) was recently concluded which provided a meaningful and timely platform on the current scientific, social, and policy issues surrounding blue carbon.
Blue carbon (BC) is the carbon stored in coastal and marine ecosystems such as mangroves and seagrasses. When these ecosystems are destroyed, they emit the carbon they have already stored as well as lose its function of carbon absorption, therefore increasing greenhouses gases in the atmosphere. Hence, with the BC initiative of Japanese and Filipino scientists on conserving these ecosystems, climate change can be mitigated.
The symposium was organized by BlueCARES (Comprehensive Assessment and Conservation of Blue Carbon Ecosystems and their Services in the Coral Triangle), which is the six-year research project supported by the Japan International Cooperation Agency (JICA) and Japan Science and Technology Agency (JST) with University of the Philippines (UP) Diliman as implementing partner of JICA and JST in the Philippines. There, they highlighted current findings, best practices, as well as emerging opportunities on blue carbon science and the future.
"Climate change is one of the hottest and the most serious issues for everybody on this sphere. Blue carbon ecosystem conservation is a serious undertaking that needs to be advanced, and should involve communities in effective actions against climate change," said JICA Chief Representative SAKAMOTO Takema. "This wonderful ecosystem provides enormous value to humanity and its destruction can be mitigated by combining science and citizen participation. This is what the BlueCARES project JICA is supporting wants to achieve in the long-term so that those who depend on the ocean for livelihood and jobs, scientists, and policy makers should become proactive partners in conservation."
BlueCARES is a trilateral project under JICA's Science and Technology Research Partnership for Sustainable Development (SATREPS) scheme that started in 2017. The initiative involves the Philippines, Japan, and Indonesia with common goal to conserve coastal ecosystems in the Coral Triangle, an area in the western Pacific ocean that is rich in biodiversity and marine resources.
To keep the Philippines up to date with coastal and marine system exploration and research, Japanese scientists under BlueCARES are also sharing comprehensive ecosystem assessment techniques and technology on mangrove and seagrass mapping as well as remote sensing. In fact, a Filipino scholar was sent to Tokyo Institute of Technology under the BlueCARES project. Following this scholarship, a nationwide mapping of seagrass in the Philippines has started.
Aside from the symposium, the BlueCARES project has been conducting field surveys to assess coastal resources in Bolinao, Pangasinan; Naawan, Misamis Oriental; Balangkayan, Lawaan, and Balangiga in Eastern Samar; and Aklan province. A Blue Carbon Network or BCNet is also being established to help promote and implement a BC Strategy in the Philippines.
Through this SATREPS achievement JICA is supporting, in addition to the significant positive impact against climate change, we can expect the priceless value of the conservation of coastal resources upon which lives and sustainable livelihood depend on.
Know more about the BlueCARES Project through this link.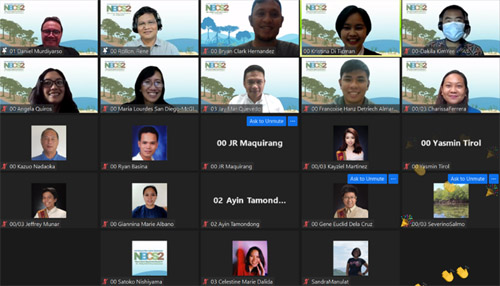 Experts, students, and researchers that participated the NBCS-2 organized by BlueCARES.