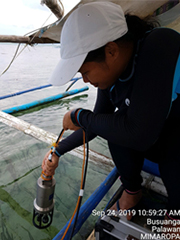 Tamondong in Palawan for seagrass mapping fieldwork.
A nationwide mapping of seagrasses in the Philippines is crucial in effectively managing the Philippines' coastal systems and building its resilience against climate change risks, according to the research by a Filipina scholar in Japan.
Ayin Tamondong, an assistant professor from the University of the Philippines (UP) Diliman who completed recently her PhD on Global Engineering for Development, Environment, and Society at Tokyo Institute of Technology under a Japan International Cooperation Agency (JICA) scholarship program shared that: "Seagrass beds in the Philippines and in the world are among the natural resources under threat by multiple human-induced stress and there is lack of effective conservation and management solutions for them. My research showed that remote sensing is useful in mapping and monitoring seagrasses in the Philippines so we can address knowledge gaps on seagrasses."
Tamondong's scholarship is part of JICA's project with UP Diliman, Comprehensive Assessment and Conservation of Blue Carbon Ecosystems and their Services in the Coral Triangle or BlueCARES. Launched in 2017, BlueCARES has been tapping scientific collaborations among Japanese and Philippine universities, scientists, researchers, and local governments to enhance marine conservation and coastal management. When the blue carbon systems are preserved in marine ecosystems, carbon dioxide released into the atmosphere is mitigated, thus enhancing climate change resilience.
Seagrass refers to unique marine flowering plants that grow in shallow coastal waters. They serve as nurseries and shelter areas for various marine fauna and endangered species such as dugongs (sea cows) and turtles. Their economic impact cannot be also overlooked as commercial fishes and other marine products depend on seagrass.
"Further, seagrasses are part of the blue carbon ecosystem that has been identified as a possible solution to mitigate climate change risks because they sequester and store carbon better than terrestrial plants," added Tamondong.
Southeast Asia, including the Philippines, is a diversity hotspot for seagrasses, but lack of research on these natural resources can affect sustaining solutions to address their growth and decline. Also, the UN Sustainable Development Goals (SDG) tracking report (2021) cited that in the Philippines, major challenges remain on protecting marine sites important to biodiversity under the SDG Goal 14 or Life Below Water targets.
Upon her return from Japan this year, Tamondong will be spearheading the nationwide mapping of seagrasses under the BlueCARES project.
"Thanks to JICA, my studies in Japan further strengthened my motivation to pursue research in protecting the coastal environment. I learned discipline, and punctuality from the Japanese which greatly improved my productivity and time management. I also hope to pass these on to my students," added Tamondong, who is also teaching remote sensing, geographic information systems, and cartography subjects in UP Diliman Department of Geodetic Engineering.
Looking into the future, Tamondong said that scientific research on the country's natural resources like seagrasses can help predict future changes in the coastal environment. "Using quantitative predictions from remote sensing technology can help us update information on our seagrass coverage, density, and species composition, and consequently, manage our natural resources and develop long-term conservation plans."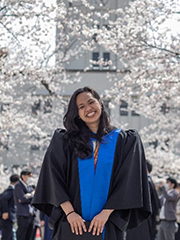 Ayin Tamondong graduated from Tokyo Institute of Technology thru JICA Knowledge Co-Creation Program under BlueCARES Project.