The Japan International Cooperation Agency (JICA) and Department of Environment and Natural Resources (DENR) have joined hands to save critical watershed systems in the Philippines as a move to address climate change and improve the livelihood of farmers and grassroots communities dependent on forest resources.
The Philippines has more than 130 watersheds critical to supplying water for irrigation, domestic, and industrial use. Government data shows that watersheds account for an estimated 70% of the Philippines' land area. This vital connection between forestland management and water resources is highlighted in the cooperation of JICA and the DENR conserving the critical river basins in Upper Magat and Cagayan, Upper Pampanga, and Jalaur in Panay Island.
As part of this effort, the JICA-DENR Forestland Management Project (FMP) recently turned over newly constructed access roads in Banaue, Mayoyao, and Lagawe in Ifugao Province seen to support upland farmers who also serve as stewards of vital forest resources. The roads are critical to helping upland farmers transport their agroforestry goods easily, find new markets, and for people to access basic services such as hospital care and schools. The roads form part of a total PHP 1.8 Billion JICA's cooperation in the construction and rehabilitation of agroforestry support facilities under FMP.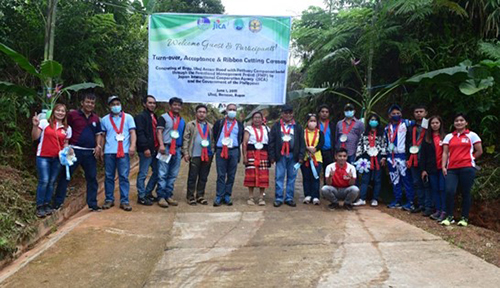 During the turnover ceremony of Ujah Access Road
"We join the Philippine government in their self-help efforts to sustainably manage the Philippines' natural resources for the greatest good of the greatest number of people in the long-term. Conserving vital forest resources such as watersheds is critical to mitigating climate change risks and giving Filipinos opportunities to improve their livelihood through sustainable forestland management," said JICA Philippines Chief Representative SAKAMOTO Takema.
Further, said access roads help upland communities implement sustainable community-based forest management activities, protect and maintain a total of nearly twenty thousand hectares of forest areas in the Province of Ifugao. The FMP, which began in 2012 in collaboration with JICA, has already dramatically contributed to conserving and rehabilitating over seventy thousand hectares of forestlands covering a total of 24 sub-watersheds in the provinces of Ifugao, Quirino, Nueva Vizcaya, Nueva Ecija and Iloilo.
Recognizing the value of watersheds to future generation, it comes as no surprise that FMP also encouraged the Philippine government to launch a national "Save Our Watershed" campaign in 2021 calling for stakeholders' collaboration on watershed rehabilitation. The DENR cited JICA's support to establish watershed management councils under FMP to also involve people's organizations, non-profit groups, and private sector in conserving this vital forest resource.
As an overall picture, the FMP has two core components, namely comprehensive site development and technical assistance. The comprehensive site development has several subprojects including mapping of watershed ecosystem, community organizing to strengthen partner people's organizations and boost enterprise development in forest communities, site development or the rehabilitation of denuded areas in the watersheds by establishing forest, agroforestry, and soil and water conservation plantations, policy making, and construction of agroforestry support facilities (ASF) including access roads, irrigation pipelines, pathways and bridges.
JICA is keen to support the country's forestry programs citing the need to give highest priority to sustainable forest management to ensure future generation reaping the benefits from the Philippines precious natural resources.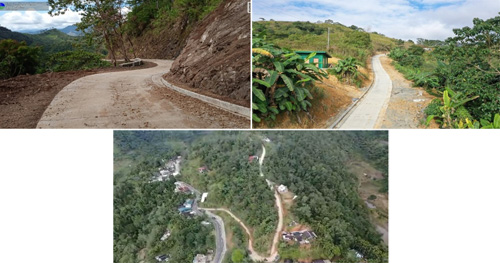 Clockwise from top left: Guinihon Access Road, Montabion Access Road, and Ujah Access Road, newly turned over facilities in Ifugao.