The sky is not the limit for this young Filipino scientist who examines how clouds can help predict extreme weather.
At Hokkaido University in Japan where Filipino scientist Meryl Regine Algodon completed her Doctorate degree on Cosmosciences under Japan International Cooperation Agency's Knowledge Co-Creation Program (Long-Term), scientists are at the forefront of helping people understand the scale of the universe and how to break the barrier between theory and observation. This includes cloud imaging to estimate the intensity of typhoons and torrential rains.
"I specialize in computer vision, and have worked with people from different fields but I've never experienced working with meteorologists. I only experienced it when I studied at Hokkaido University. Coming from a country that is frequently affected by typhoons, the knowledge I gained from my studies in Japan will be useful for projects in the Philippines related to disaster management," said Algodon.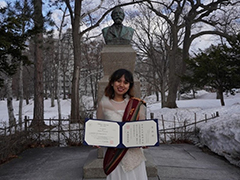 Algodon applied for the scholarship in Japan while working as a science research specialist at the Department of Science and Technology - Advanced Science and Technology Institute (DOST-ASTI). The said government agency has ongoing cooperation with JICA on development of extreme weather monitoring and information sharing-system in the Philippines or ULAT (Understanding Lightning and Thunderstorms) Project.
The Philippines is situated on the so-called Pacific Ring of Fire, a path around the Pacific Ocean where volcanic eruptions and earthquakes occur. Typhoons also regularly batter the archipelago. Scientists say that with climate change, vulnerable countries like the Philippines are likely to face more powerful storms.
Given this vulnerability, Filipino scientists like Algodon have been keen on collaborating with advanced countries like Japan whose expertise they can learn from to explore new ways in weather forecasting. Algodon's scholarship was part of JICA's Science and Technology Research Partnership for Sustainable Development or SATREPS where Japanese and other research institutions in JICA partner countries work together to research on common global challenges.
"My research is focused on creating cloud three-dimensional (3D) models using multiple imaging sources. These cloud models, when studied in a 3D perspective, can help us analyze the parameters involved in typhoon development, and hopefully, predict their intensity and trajectory in the future. We hope to improve typhoon forecasting as this can help in disaster management policy making in the Philippines, specifically when and which areas should be evacuated."
On a personal note, Algodon added that studying in Japan has been a long-time dream. "I took the chance to apply for graduate studies in Japan. Since I was a child, I've always dreamed of living in Japan. I love its culture and environment. My primary goal was to complete a doctoral degree in one of Japan's leading universities, but I also learned a lot through immersion in Japan's work and study culture, and how Japanese go through their daily lives," she said.
Like other Filipino scholars who experienced Japanese studies, Algodon could not help but share how JICA's scholarship changed her. "I learned how to have good work ethics, persistence in my task, and network with experts in my field. Japanese are also respectful of people's time and are very punctual. This is a trait that I want to instill in my professional life in the Philippines."
Now back at DOST-ASTI, Algodon stays in touch with her Japanese professors and is keen to share the knowledge and tools she learned in Japan, while helping more people understand extreme weather events and care about saving lives.