About 149 people's organizations meet this week for the People's Organization (PO) Summit and Watershed Forum 2022 as a pre-closing learning exchange venue on sustainable strategies in the rehabilitation of 71,300 hectares of forestlands in 24 sub-watersheds of the provinces of Ifugao, Nueva Ecija, Nueva Vizcaya, Quirino, and Iloilo.
The Japan International Cooperation Agency (JICA) hailed the commitment of the PO's saying the broad stakeholder support and collaboration is an achievement under JICA-Department of Environment and Natural Resources (DENR) cooperation "Forestland Management Project" or FMP.
"For a country that is vulnerable to disasters and climate change, the POs' role as stewards of these forestlands is critically important in the conservation of our natural resources and further contributing to the reduction of disaster risks and protecting those at the downstream areas," JICA Senior Representative EBISAWA Yo said in his keynote message.
FMP, which began in 2012, helped avert further forest degradation in the Philippines as it helped strengthen 149 POs in comprehensive forest site development and protection and maintenance alongside enterprise development activities. JICA also extended support in the construction of agroforestry support facilities (farm-to-market roads & pathways, bridges, irrigation systems) to help upland farmers improve access to forestlands and delivery of products to market centers and ensure survival of newly established forest plantations.
JICA noted the success of the FMP in its pilot sites that the project has been extended up to 2023.
POs from the Cordillera Administrative Region (CAR), Nueva Vizcaya and Quirino in Region 2, Nueva Ecija in Region 3, and Iloilo in Region 6 have committed to the project. These pilot sites benefited from the project, protecting critical watersheds in their areas that helped ensure steady water supply and cushioned communities from impact of natural disasters.
The FMP aligns with the Philippines' commitment towards sustainable forest management under the Sustainable Development Goals (SDGs). Despite indication of significant challenges, the 2022 UN Report on SDGs shows that the Philippines is on track in maintaining SDG 15 - Life on Land, particularly in preventing permanent deforestation.
Aside from FMP, JICA has been cooperating the Philippines in the environment sector such as support to private sector participation in solid waste management, environment conservation like protecting blue carbon ecosystems, and water improvement projects.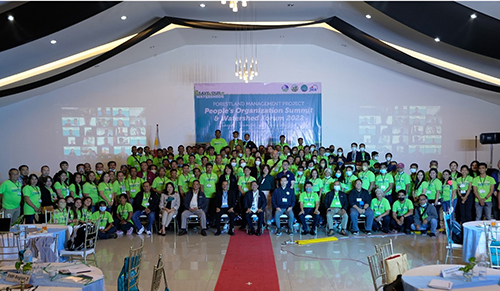 Representatives from 149 People's Organizations supported by the JICA-DENR Forestland Management Project.