The Japan International Cooperation Agency (JICA) announced that 16 Filipino scholars are set to pursue graduate studies in Japan's prestigious universities this year.
The scholars were chosen under the JICA's Knowledge Co-Creation Program (KCCP) and Long Term Program (LTP), components of JICA's Official Development Assistance (ODA) that aim to support human resource development in partner countries like the Philippines, while sharing Japan's expertise and knowhow.
"The KCCP and LTP are unique opportunities for young Filipino leaders working in government to study solutions and gain new perspectives so they may contribute to nation-building. Many of the JICA scholars have become leaders in their own fields, while others hold key positions in Philippine government," said JICA Chief Representative SAKAMOTO Takema. "JICA welcomes this new batch of change makers who can also work with us in promoting a sustainable and equitable future."

JICA Chief Representative SAKAMOTO Takema (middle) and Senior Representative HIROSAWA Jin (left-most, second picture) with incoming scholars who are off to Japan thru the JICA KCCP.
Nine (9) mid-career officials from the National Economic and Development Authority (NEDA), Department of Finance (DOF), Department of Public Works and Highways (DPWH) are this year's recipients of the KCCP Long-Term: SDGs Global Leader Program (SDGs GLP). Through the SDGs Global Leader program, JICA aims to foster junior/mid-level government officials, academicians and leading human resources in various fields who are capable of influencing policymaking in their countries or contributing to socioeconomic development in the near future, by providing a Master's/Doctoral program in Japanese universities.
Meanwhile, six (6) technical and policymaking officials from the Philippine Coast Guard (PCG), Philippine Institute of Volcanology and Seismology (PHIVOLCS), Philippine Atmospheric, Geophysical and Astronomical Services Administration (PAGASA), Department of the Interior and Local Government (DILG), DPWH, and the Municipality of Mambusao, Capiz (LGU) are recipients of three KCCP Group and Region Focus (GRF) Degree Programs. These programs, on the other hand, offer study experiences in areas such as Maritime Safety and Security Policy; Seismology, Earthquake Engineering and Tsunami Disaster Mitigation; and Flood Disaster Risk Reduction.
Finally, one (1) instructor from the Central Luzon State University (CLSU) is the recipient of this year's Agriculture Studies Networks for Food Security (Agri-Net), one of JICA's Long Term Programs that aims to support the achievement of the SDGs in the area of food security, improved nutrition, and promoting sustainable agriculture in the Philippines.
Since its implementation in the Philippines, the JICA KCCP has benefited various scholars from different government agencies. Annually, hundreds of Filipinos participate in JICA's KCCP to represent their country, and to create robust bridges between the Philippines and Japan to deepen mutual understanding and friendship.
"Amidst the challenges we all face in a post-pandemic world, JICA is confident that the latest batch of JICA scholars will use their knowledge and experience from Japan to lead and inspire their fellow Filipinos upon return to public service," added the JICA Chief.
The KCCP is composed of training and scholarships that aims to share vast knowledge and expertise to partner countries such as the Philippines in order to foster human resource development towards socio-economic growth. In addition, the KCCP is also an information and experience-sharing platform that fosters dialogue and collaboration among Japanese universities and institutions and a multi-cultural group of trainees and scholars from around the world.
For more information about JICA's Knowledge Co-Creation Program (KCCP), you may visit this link: https://www.jica.go.jp/philippine/english/activities/activity02_03_03.html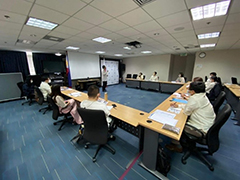 Sixteen Filipino JICA scholars during their pre-departure orientation seminar.