Recognizing that building the foundation for good governance is crucial to addressing poverty in the Bangsamoro Autonomous Region in Muslim Mindanao (BARMM), the Japan International Cooperation Agency (JICA) expressed full support to capacity building initiatives for local executives from BARMM during a recent orientation seminar on local governance and administration.
JICA Chief Representative to the Philippines SAKAMOTO Takema congratulated BARMM's newly elected leaders, while saying that strengthening the capability of the local officials in BARMM is crucial in delivering high quality public service to the Bangsamoro people. "Capacity building is key in the prosperity of BARMM where people benefit from accountable, inclusive, consultative, transparent, and fair process," the JICA Chief said.
JICA has also outlined its cooperation with BARMM based on Japan's Country Development Policy anchored on three pillars: economic growth, human security, and peace and development in Mindanao.
To this end, JICA has rolled out many development cooperation activities to support the peace process in the Bangsamoro, including the crafting of the Bangsamoro Development Plan 2 (2023-2028) and Capacity Development Project for the Bangsamoro (2019-2025) to tackle needs such as governance, livelihood improvement, mitigation of the effects of Covid-19, and local industry development.
In addition, JICA previously implemented the Revenue Enhancement Assistance for LGUs (2017-2019) to provide leadership enhancement and development training to 25 municipalities as well as improvement of revenue generation capacity of 5 target municipalities in ARMM/BARMM.
"JICA is confident that advancing development in BARMM is key to a sustainable, inclusive, and resilient economic growth in the Philippines," SAKAMOTO added.
JICA co-organized the recent capacity building activity of BARMM's Ministry of Interior and Local Government zeroing in on Local Governance and Administration for the Bangsamoro Local Chief Executives. About a hundred local executives from BARMM attended the activity.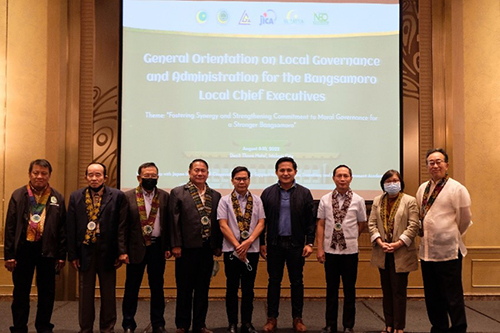 Officials of the Bangsamoro Transition Authority with MILG-BARMM Minister Naguib Sinarimbo (5th from the right) DILG Undersecretary for Local Governance Marlo Iringan (3rd from the right), Local Government Academy Director Thelma Vecina (2nd from the right), and JICA Philippines Chief Representative SAKAMOTO Takema (right most).

Participants during the JICA-led orientation for BARMM leaders.