The Japan International Cooperation Agency (JICA) and Ateneo de Manila University hosted the 3rd JICA Chair Lecture on November 5th to present Japan's history of transit-oriented development (TOD) for further sustainable development of railways and urban planning development.
Japan is the first country to achieve modernization as a non-western country. Japan achieved building a law-based, free, and democratic nation while ensuring its traditions and identity, and such experience could be one of the best models of development for emerging countries. At the same time, through official development assistance to Asian countries that have achieved remarkable economic and social development, notably in recent years, JICA has extensive experiences in international cooperation. "JICA Chair" is one of the symbolic endeavors to expand opportunities in partner countries to share the experiences and lessons accumulated in Japan's unique modernization process and JICA's development assistances.
Under "JICA Chair", a series of intensive lectures about Japan in the field of politics, economics, public administration and social development among others, are conducted by experts dispatched from Japan.
In the Philippines, JICA has partnered with Ateneo de Manila University-Japanese Studies Program to conduct the JICA Chair Lecture Series.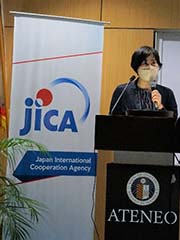 JICA Expert ABE Tomoko leading the discussion series under JICA Chair.
For 3rd JICA Chair Lecture, JICA and Ateneo de Manila University have decided on a topic " T·O·D, Transit-oriented Development"that is very relevant to the Philippines since there are numerous initiatives led by the government to develop and expand the railway network, address traffic congestion and enhance the connectivity around Metro Manila and beyond.
TOD is an effective approach that countries like Japan applied to maximize economic benefits from transport infrastructure and urban development. Said lecture entitled "Japanese Experience on Integration of Urban Development and Railway Transport System, Transit-oriented Development (TOD)" was attended by around 300 development academics, government officials and students from all over the Philippines. JICA expert ABE Tomoko shared experience on TOD. In addition to JICA Technical Cooperation Project in the Philippines, Abe has worked with other countries like Vietnam, Indonesia, Mongolia, Sri Lanka, and Japan on TOD.
JICA Chief Representative SAKAMOTO Takema said, "JICA is taking steps to continue to expand our cooperation with the Philippines to 'Build Better More' quality infrastructure. In fact, as you may know, JICA supports massive railway projects in the country like the Metro Manila Subway Project, North-South Commuter Railway, MRT-3 Rehabilitation and the extension of LRT 1 and LRT 2. In order to maximize the impact of the railway development in the Philippines, the integration and harmonization of urban planning and transport development is indispensable, which is the fundamental concept of TOD."
Japan is known for its strength in building world-class transport systems. From the first railway in Shinbashi-Yokohama in 1872 until today, Japan's railways have become a symbol of Japan's strength in building one of the world's best transport systems with high reliability.
To achieve the success, the significance of the TOD concept introduced in the early of 20 century should be emphasized.
The Philippines, although considered one of the emerging economies in the region, has lagged behind in infrastructure development. The latest World Competitiveness Ranking 2022 of the Institute of Management Development (IMD) survey, it ranked 57 out of 64 countries in the category of infrastructure development. These showed that infrastructure development is particularly challenging to the Philippines compared with other ASEAN neighbors.
To this end, JICA has been actively supporting both the hard and soft components in the Philippines to achieve the sustainable development. Aside from hard infrastructure development cooperation, JICA is also lending expertise through soft components such as the capacity enhancement on TOD and traffic management. All these hard and soft components are combined, the impact is more meaningful.