On November 25, 2022, Officer-in-Charge of the Department of Health (DOH) Maria Rosario S. Vergeire, Minister Embassy of Japan NIHEI Daisuke, and Chief Representative of Japan International Cooperation Agency (JICA) Philippines Office SAKAMOTO Takema led the Turn-over Ceremony of Equipment that will help further accelerate COVID-19 inoculations in the Philippines, save more lives, and boost economic recovery. Through its Last One Mile Support initiative, JICA decided to provide JPY198 million (about PHP80 million) worth of cold chain and logistics equipment for the management of COVID-19 vaccines to the DOH.
JICA's cooperation is timely as the Philippines moves to achieve its vaccination targets to underserved priority groups, particularly in hard-to-reach communities, and restart new normal lives and economic activities.
JICA's cooperation to the DOH in boosting the deployment of COVID-19 vaccines in the country consists of 2 units of service vehicles and 2 units of refrigerated vans which the DOH can use to reach out to remote areas, as well as 600 units of biothermal packaging, which are reusable iceless containers, for the safe storage of vaccines.
JICA's Last One Mile Support is implemented with unprecedented speed anchored on the trust built between JICA and its partner countries like the Philippines. It usually takes a year for collaborations of this kind to prosper, but the support to COVID-19 response and recovery was met with urgency and was approved in a matter of months.
"The Covid-19 pandemic has triggered many negative effects, especially to those living in poverty. Today, we hand over the vehicles and thermal packaging system units. This is a clear testament to the genuine goodwill of the people of Japan. When people are safe from the virus and the supply chains are operating, we all benefit from it in the longer term," said Chief Representative of JICA Philippines Office SAKAMOTO Takema.
To help the Filipinos lives from the virus, JICA has been cooperating with the Philippines' COVID-19 response and recovery since the beginning of COVID-19 pandemic, 2020. In addition to the cold chain equipment JICA turned over currently, JICA is processing to provide around JPY 687 million worth (equivalent to PHP 275 million) of another cold chain equipment under Grant aid project. JICA provided around JPY200 million worth (equivalent to PHP80 million) of medical equipment and supplies to the Research Institute of Tropical Medicine (RITM), San Lazaro Hospital, Philippine General Hospital (PGH), Eastern Visayas Medical Center (EVMC), and Treatment and Rehabilitation Center(TRC) all over the Philippines. JICA also provided trainings on telemedicine to Filipino doctors and frontliners to increase hospitals' capacity of giving intensive care services. And now, JICA has just started new technical cooperation to strengthen laboratories' capacity for Infectious disease control.
JICA likewise disbursed a JPY40 billion Post Disaster Standby-Loan and a JPY80 billion COVID-19 Crisis Response Emergency Support Loan as contingency funds for the Philippines' public health crisis.
JICA has actively cooperated to the Philippines' health sector for many decades. It can be recalled that it was through the Japan-Philippines Joint Commission on Cholera Research that paved the way for the country's first research institute for infectious diseases. The Japanese private sector has also been active in introducing new technology to JICA partner institutions like San Lazaro Hospital when it comes to treatment of other infectious illnesses like TB.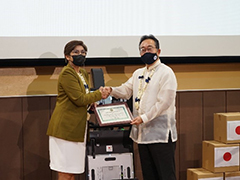 DOH Acting Secretary Vergeire (left) and JICA Chief SAKAMOTO (right) during the turnover of equipment.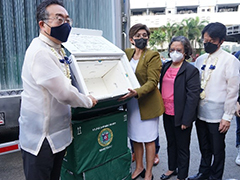 JICA Chief SAKAMOTO, DOH Acting Secretary Vergeire showing the cold chain equipment used to store vaccines.