About 70% of natural disasters in the Philippines are water-related, such as typhoons, monsoons, and floods.
Risk assessments are therefore crucial in predicting these water-related disasters and mitigating their effects on lives and on the economy. This is why Filipino researchers from the University of the Philippines (UP) Los Baños and Diliman visited Japan from 27 November to 10 December 2022 under a Japan International Cooperation Agency (JICA) project between Japanese and Philippine research institutions. The cooperation "Project for Development of a Hybrid Water-Related Disaster Risk Assessment Technology for Sustainable Local Economic Development Policy under Climate Change in the Philippines" (HYDEPP) is fostering knowledge co-creation with Filipino researchers on flood and drought risk assessment.
As such, the cooperation took 14 researchers from the Philippines on a two-week study visit to Japan's International Center for Water Hazard and Risk Management (ICHARM) in Public Works Research Institute in Tsukuba, Japan.
"Our training in Japan highlighted the value of an integrated approach in providing solutions to water-related problems. We learned about the river basin management plan used in Tsurumi River Basin in Kanagawa Prefecture where they showed us how they are managing opportunities for people to interact with the river basin. They have information drives about Tsurumi River Basin developments, and they encourage residents to collaborate and participate in activities to protect the river basin," said Liezl Anne Sumagaysay, a researcher at National Hydraulic Research Center at the UP Diliman Institute of Civil Engineering.
Aside from study visits to Japan's research institute, the researchers from the Philippines also attended lectures on flood warning systems using Japanese technology and assessments of water-related extreme events due to climate change.
HYDEPP will launch a climate-hydrological-agricultural simulation model to analyze water disasters with climate change scenario. They provide critical information on flood mitigation, emergency response, and resilient infrastructure.
"JICA is committed to developing the capacity of the Philippines' human resources on disaster management. The study visit of Filipino researchers to Japan will significantly help the Philippines come up with the best evidence-based knowledge to support disaster management policies and plans. As the Philippines and Japan are common disaster-prone country, Kasama nyo kami (we are with you)," said JICA Chief Representative SAKAMOTO Takema.
The Filipino researchers also came to see how local government units in Japan are implementing lake and dam management.
HYDEPP is part of JICA's Science and Technology Research Partnership for Sustainable Development (SATREPS) where research organizations in Japan and the Philippines work together to perform research and address global issues.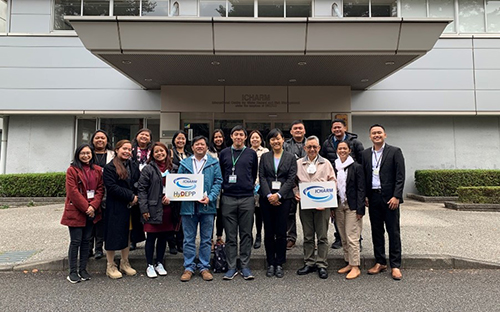 Filipino training participants pose in front of Japan's International Center for Water Hazard and Risk Management (ICHARM) Public Water Research Institute.