A pilot project from the Japan International Cooperation agency (JICA) introduces a Japanese unique technology that can run on land and water and clean up rivers in Las Piñas City this week.
The technology is an amphibious dredging equipment developed by Japanese company Kochi Marutaka Corporation, and can be disassembled and carried to rivers or construction sites. Such technology can dredge and remove debris even in small rivers and drainage channels stably and efficiently. The equipment is particularly useful in times of disasters specifically against flooding since it can also clear up garbage that accumulates in waterways.
The Japanese company has partnered with JICA, Department of Public Works and Highways (DPWH), and Las Piñas City Government to launch the technology in the Philippines and test it at the local government level. This was done through the JICA Private Sector Scheme where Japanese technologies are introduced to partner countries like the Philippines through Japanese Private Sector.
"Aside from Official Development Assistance (ODA) major schemes, such as provisions of soft conditioned Yen loans, JICA has been partnering with the private sector under our Sustainable Development Goals Business Supporting Survey. This program shares with our partner countries unique products or technology from Japanese companies to boost industrial and economic growth, improve the living environment of communities, expand business and stimulate future investments of Japanese companies," said JICA Philippines Project Formulation Advisor HASHIZUME Takuya.
When implemented, the technology can remove river sediments and recover drainage capacity. It also allows safe and efficient works on rivers, and alleviate flood damage since the flow of polluted sediments into the ocean is prevented.
JICA has recognized the growing potential of innovation and new technology from Japanese companies in answering development issues in the country.
"We recognize the support of LGUs like Las Piñas City to this project since LGUs are always on the frontlines during disasters. When scaled up, use of this floating amphibious excavator can empower more LGUs to clean up river systems and mitigate disasters in the long-term," added HASHIZUME.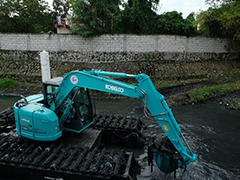 Amphibious dredging equipment by Kochi Marutaka Corporation provided to Las Pinas City through JICA.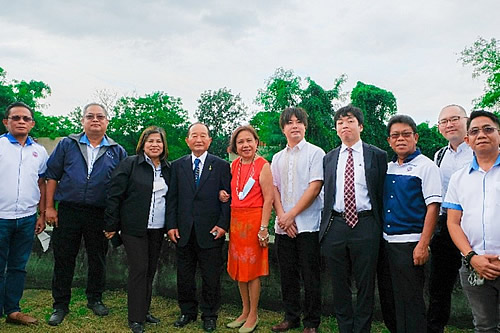 Officials from Las Pinas City Government, DPWH, JICA, and Kochi Marutaka Corporation during the launching ceremony.