Cotabato City -- As part of his official visit to the Philippines, Japan International Cooperation Agency (JICA) President TANAKA Akihiko delivered a speech before the members of Bangsamoro Transition Authority (BTA) Parliament on January 18th, reassuring JICA's continuing support to peace and development process in the Bangsamoro. He is the first foreign official to deliver a message at the BTA Parliament since its establishment.
President TANAKA's visit coincided with the 4th Anniversary of the Bangsamoro Foundation Day where he also met with Chief Minister of BTA Ahod B. Ebrahim, Senior Minister of BTA Abdulraof Macacua, Deputy Speaker of BTA Parliament Omar Yasser Sema, and other members from the BTA.
"JICA has been committed to peace and development process in Mindanao for decades. We welcome the latest development efforts in the region, which is also essential to the prosperity of the entire Philippines," President TANAKA said during his speech mentioned above. He lauded the BTA's effort to build constructive relationship with the Philippine government and local government units. Further, he recognized the efforts of the BTA to build a foundation for good governance including the drafting of the Electoral Code, Local Government Code and Revenue Code.
"JICA extends our utmost respect to all your actions to represent the voices of your diverse people, and to your strong commitment for the peaceful future of the region," he said in his speech.
BTA Parliament presented two adopted Resolutions - to President TANAKA and to JICA as a whole. The resolutions recognize, appreciate and commend President TANAKA and JICA for JICA's proactive collaboration with the region.
This is the President TANAKA's fifth official visit to the Philippines, third time in Mindanao. During his first term as JICA President from 2012 to 2015, President TANAKA attended the historic signing of the Comprehensive Agreement on the Bangsamoro at Malacañang Palace in 2014.
For his visit this time, President TANAKA also had an intensive high-level discussion meeting with BTA ministers headed by Chief Minister of BTA Ahod B. Ebrahim. The high-level discussion was attended by ministers of Public Works; Interior and Local Government; Agriculture, Fisheries and Agrarian Reform; Trade, Investments and Tourism; Finance, Budget and Management; Environment, Natural Resources and Energy; and the Director-General of the Bangsamoro Planning and Development Authority for a broad exchange of views based on the new Bangsamoro Development Plan which was recently compiled by the BTA.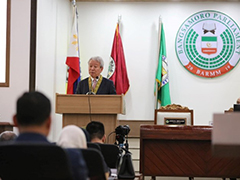 JICA President TANAKA during his address to the BTA Parliament
In addition, President TANAKA greeted students at Kibleg Elementary School for the second time, where a 2-classroom building was constructed under JICA's Quick Impact Project framework. He also went to a vegetable demonstration farm in Barangay Kibleg, a project supported by JICA's Capacity Development Project for the Bangsamoro (CDPB).
President TANAKA also assured that since the onslaught of Typhoon Paeng in Mindanao in 2022, JICA is mulling new areas of further cooperation that will boost disaster and climate change resiliency in Mindanao.
JICA also plan to extend an invitation to the BTA Parliament members for a study visit in Japan. "We hope that sharing Japan's experiences will be of great help to the BTA Parliament to build a better democratic system in the region," President TANAKA added.
Today, JICA continues to be a leader among Philippine international partners, supporting the Bangsamoro peace and development. Its Official Development Assistance (ODA) to the Bangsamoro includes capacity development, livelihood improvement, industry development and construction of socioeconomic infrastructure to promote inclusive, sustainable and resilient quality growth in the region.

JICA President TANAKA visited Barangay Kibleg to visit the local school (left) and a vegetable demonstration farm (right) where JICA are spearheading projects.