Japan International Cooperation Agency (JICA) President TANAKA Akihiko recently visited the Philippines to reaffirm the significance of JICA's cooperation to the country to address wide-ranging development needs and to strengthen the strategic ties that bind Japan and the Philippines.
President TANAKA's trip marks his 5th visit to the Philippines as JICA President; his previous stops were during his first tenure as JICA President from 2012 to 2015.
JICA has significantly contributed to the achievement of the 1-Trillion commitment done by the Government of Japan in 2017 to quality growth, human security, peace and stability. The Philippines is one of the top beneficiaries of Official Development Assistance (ODA) from Japan. In Japanese Fiscal Year (JFY) 2021 (from April 2021 to March 2022), the country received the highest ODA through JICA among Southeast Asian countries with approximately JPY260 billion total value comprising of technical and financial cooperation.
For this year's visit, President TANAKA visited Cotabato City and nearby communities for his third opportunity. He was also given the special honor to be the first foreign official to speak at the Bangsamoro Transition Authority (BTA) Parliament. Moreover, the BTA Parliament exceptionally adopted two resolutions commending and recognizing JICA and President TANAKA for their support and contribution to the Bangsamoro Autonomous Region in Muslim Mindanao (BARMM).
"For me, the peace and development in Mindanao is very special. I am truly happy and proud to work with all of you for the attainment of this purpose in the region, which is also essential for the prosperity of the entire Philippines," said President TANAKA.
JICA is venturing into over 80 ongoing cooperation all over the Philippines, including projects that focus on infrastructure development, human/social development, disparity mitigation, disaster management, urban road congestion mitigation, and peace in Mindanao. The Philippines still has such various challenges for the sustainable, resilient and inclusive quality growth for all.
One of JICA's most significant cooperation in the Philippines yet, the first phase of the Metro Manila Subway Project, is also in full swing with ongoing construction activities in several stations and tunnel drilling activities commenced in the early 2023. The subway project is touted to be a massive investment for the Philippine government who is working closely with JICA to ease congestion in the metropolis and to improve air quality, thus contributing to the mitigation of climate change impacts.
Throughout his visit, President TANAKA met many dignitaries, to exchange views, deepen mutual understanding and boost cooperation, such as the Vice President of the Philippines, Sara Duterte-Carpio; Executive Secretary of the President, Lucas Bersamin; Secretary of Budget and Management, Amenah F. Pangandaman; Presidential Adviser on Peace, Reconciliation and Unity (Secretary), Carlito Galvez Jr.; Secretary of Public Works and Highways, Manuel Bonoan; and Commandant of the Philippine Coast Guard, Admiral Artemio Abu. In the BARMM, he met the Chief Minister, Ahod Ebrahim; Senior Minister Abdulraof Macacua; BTA Parliament Deputy Speaker Omar Yasser Sema, and other BTA Ministers and Parliament Members. He reiterated JICA's continuous commitment to contribute to the quality growth and human security, as a long-standing and reliable partner to the Filipino people.
JICA is the world's largest bilateral aid agency, with presence in more than 150 countries and regions, and has some 90 overseas offices globally. It is also the Philippines' foremost partner in socioeconomic development, sharing Japanese expertise and technology in most of cooperation projects.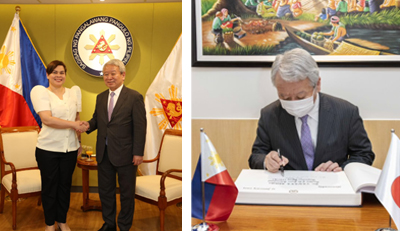 JICA President TANAKA during a courtesy visit to Vice President Sara Duterte.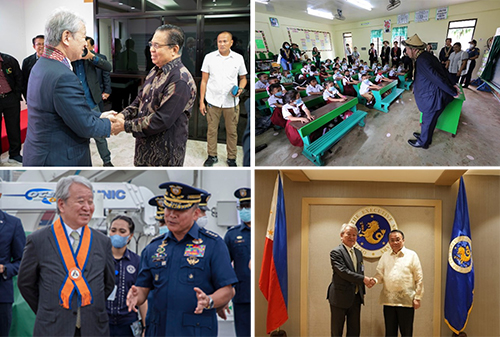 During President Tanaka's visits to: (1sr row L-R) Office of the BARMM Chief Minister Ahod Ebrahim; School Building in Kibleg Elementary School in Upi, Maguindanao; (2nd row L-R) Maritime Security Capability Improvement Project Phase II at the Philippine Coast Guard Headquarters; and Office of the Executive Secretary Lucas Bersamin.

JICA President Tanaka rode the MRT-3 (left) and visited the Pasig Marikina River Improvement Project along Guadalupe riverside (right).

President Tanaka spoke before members of the BTA Parliament (left) and ex-combatants/JICA project beneficiaries in Upi, Maguindanao del Norte (right).