To improve the extreme weather forecasting system in the Philippines, five weather specialists from the Philippine Atmospheric, Geophysical and Astronomical Services Administration (PAGASA) studied monitoring and forecasting severe thunderstorms from radars and satellites at the Japan Meteorological Agency (JMA).
The study visit, where the PAGASA staff were trained in Japan from 19 January to 3 February 2023, is part of an ongoing technical cooperation project between PAGASA and Japan International Cooperation Agency (JICA) on "The Project for Capability Enhancement for High Quality Weather Observation, Forecast, Warning, and Information in the Philippines".
In the Philippines, government data pointed to typhoons, monsoon rainfall, and floods as accounting for 70% of natural disasters. Japan has been using its advanced radar technology to predict extreme weather events and typhoon analysis systems.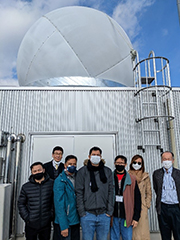 PAGASA trainees pose with a Phased Array Radar at Osaka University with Professor Ushio (rightmost).
"The training helped us understand what other technology we can apply in the Philippines to make weather forecasting more accurate. One of this is the rain gauge network that can be acquired through national agencies and local government units. This can help predict extreme weather through radars with better accuracy and improve our forecasts," said John Grender Almario, one of the participants in the training from PAGASA.
The five Filipino weather specialists met with radar technology experts from Kyoto University, Osaka University, and Japan's National Research Institute for Earth Science and Disaster Resilience.
"Our training in Japan taught us that modernizing weather services goes beyond the procurement and operationalization of new equipment, tools, and techniques. Rather, it also requires coordination and collaboration of various meteorologists in an organization," shared another participant from PAGASA, Ella Marie Soriano.
Under the PAGASA Modernization Act, PAGASA is mandated to improve the quality of its meteorological observations and forecasts by developing advanced technologies. One of this is the quantitative precipitation estimation that makes use of weather radar.
"One of JICA's priorities in its development cooperation is to cope with climate change and improve resiliency against climate-induced threats. By sharing Japan's knowledge and technology experiences with PAGASA, JICA hopes to improve accuracy of weather forecasts in the Philippines, and save lives," said JICA Chief Representative SAKAMOTO Takema. "This year is the 50th anniversary of our cooperation with PAGASA, an opportune time to further our partnership. PAGASA is our 'hope' for a safer and brighter future." Sakamoto added.
JICA has actively provided cooperation to disaster management efforts in the Philippines. Aside from sending Filipino disaster specialists to Japan for training and development, JICA also lends support through provision of equipment and building infrastructure to boost overall Philippine disaster resiliency.

During trainees' visit to Japan Meteorological Agency.