The Department of Environment and Natural Resources (DENR) and barangays from the Municipality of Janiuay in Iloilo Province, collaborating with local communities, are backing a sustainable forestland management through the cooperation of Japan International Cooperation Agency (JICA) to further forest conservation and job creation.
JICA's cooperation project, Forestland Management Project (FMP), turned over about PHP100 million of agroforestry support facilities (ASF) composed of a concrete bridge, two pathways, three hanging bridges, and an irrigation pipeline system. These facilities aim to connect upland communities to markets, boost their access to social services, and help sustain community-based forestry initiatives.
According to DENR Region VI, these ASFs "will not only provide ease in access and transport of products but likewise trigger socio-economic development in the affected communities and sound environment and natural resource governance."
The project has tapped community participation to boost forest conservation since its launch in 2012. It has involved 149 people's organizations (POs) in three of the country's major watershed areas, namely Upper Magat and Cagayan, Pampanga, and Jalaur. The project stimulates POs on enterprise development to boost income and jobs and encourage them to protect the forests. Data from the project showed that through community development, 71,300 hectares of forests have been conserved.
JICA added that, aside from forest conservation, the FMP also contributes to address climate change risks - both for mitigation and adaptation - which induce natural disasters in vulnerable areas.
"We acknowledge active participation of LGUs and communities as crucial in the field of forest rehabilitation. It's the synergy of these efforts from government, communities, and international development partners like JICA that can make long-term impact in conserving the environment," said IDE Soichiro, Senior Representative of JICA Philippines office.
FMP features a comprehensive approach to the conservation of critical watersheds in the Philippines. The Project consist of forestland site development, community empowerment, enterprise development, ASFs construction, and governance enhancement, and is one of the many cooperation projects of JICA to support natural environment conservation in partner countries like the Philippines.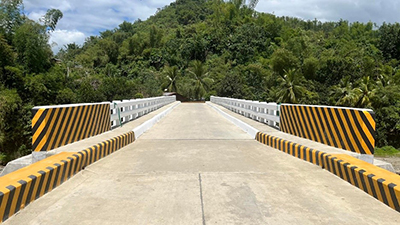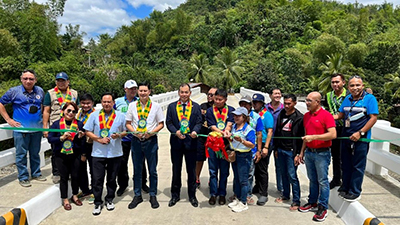 JICA, DENR, LGU Officials and members of Peoples' Organizations of Janiuay pose with the Quipot RCDG Bridge, one of the ASFs turned over to the Municipality of Janiuay.