Extreme weather events recently intensified due to climate change prodded the Philippine government to invest in technology to elevate weather forecasting capability using satellite data.
Japan International Cooperation Agency (JICA) and the Department of Science and Technology - Advanced Science Technology Institute (DOST-ASTI), in partnership with Japan's Hokkaido University, unveiled this March 10, 2023, the Iloilo Ground Receiving Station (GRS) that can receive satellite images for the development of short-term weather forecasting system.
The establishment of this facility is part of a joint research project between DOST-ASTI and Hokkaido University, entitled "Development of Extreme Weather Monitoring and Information Sharing System in the Philippines" locally known as "Understanding Lightning and Thunderstorms for Extreme Weather and Information Sharing (ULAT)", Science and Technology Research Partnership for Sustainable Development (SATREPS)[1]. ULAT project aims to provide short-term forecasting system using lightning and extreme weather events as observation data in the country.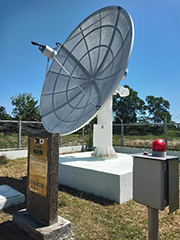 Iloilo Ground Receiving Station
"With this capability, the Project can help improve weather forecasting and timely sharing of weather information to Disaster Risk Reduction and Management (DRRM) related agencies and Local Government Units to keep vulnerable communities safe," said JICA Chief Representative SAKAMOTO Takema in his message.
Japan and the Philippines share common experiences when it comes to natural disasters. Japan, through JICA, has in fact extended technical expertise with the Philippines through various support modalities such as providing advanced equipment and training Filipinos in Japan respectively.
JICA recognizes that making prior investments in precautional disaster management would mean greater economic benefits for the disaster-prone Philippines. It is noted that every USD 1 invested in risk reduction and prevention can save up to USD 15 in post-disaster recovery, based on the assessment by United Nations Office for Disaster Risk Reduction. Aside from having better mechanism to warn the public, the Iloilo GRS can help improve weather observation and forecasting because of satellite data.
Extreme weather events in the Philippines such as Typhoon Pablo in 2012, Typhoon Yolanda in 2013, and Typhoon Odette in 2021 devastated industries and severely affected the Filipinos' standard of living. In Metro Manila, for example, torrential rains can cause serious damage to buildings and property, traffic, and other human losses.
JICA and the Philippines have been working together for decades in DRRM. Aside from hardware infrastructure/facilities support in weather observation and monitoring systems, JICA has also been sending Filipino professionals in space related technology to study in Japan for short- and long-term trainings.
Note
[1] SATREPS (Science and Technology Research Partnership for Sustainable Development) is a science and technology initiative in diplomacy that promotes international joint research between Japan and developing countries using advanced Japanese science and technology. The program is implemented in collaboration among JICA, "Japan Science and Technology Agency (JST)" and "Japan Agency for Medical Research and Development (AMED)." These efforts are aimed at addressing global issues, including those related to the environment, energy, biological resources, disaster risk reduction, and infectious diseases, and support independent and sustainable development in developing countries.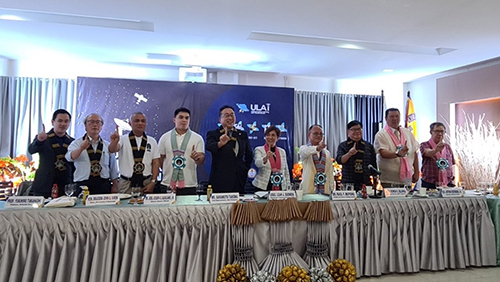 (L-R) DOST-ASTI Director Dr. Franz De Leon, Hokkaido University Prof. TAKAHASHI, Philippine Space Agency Director-General Dr. Joel Joseph Marciano, Dumangas Mayor Braeden John Biron, JICA Chief Representative SAKAMOTO Takema, DOST Undersecretary Leah Buendia, Iloilo Science and Technology University President Dr. Raul Muyong, DOST-VI Regional Director Engr. Rowen Gelonga, Board Member Rolando Distura, and Head of Iloilo Provincial DRRM Dr. Jerry Bionat.