The Japan International Cooperation Agency (JICA) has concluded its training program for young Filipino professionals from the health sector to boost human resource development in the Philippines in social welfare and nursing care for the elderly.
The "Young Leaders" (YL) training under the JICA Knowledge Co-Creation Program (KCCP) sent 12 young professionals to develop their technical knowledge and skills through cooperative programs that discuss the sectoral foundations of Japanese society. They visited the local governments of Niseko and Toya towns, Sapporo Medical University, as well as HARELU Miyanomori Elderly Housing, both in Hokkaido, Japan. They learned about Japan's latest technologies and practices that are catered to support the country's elderly population.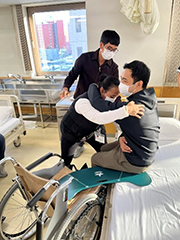 YL Trainees learning practical nursing care skills at Yoshida Gokuen School
"With the increasing life expectancy of our generation, there are soaring needs for social welfare services catering to the elderly. This is also a very much critical issue in Japan, and the training will share Japan's innovation and systems supporting the elderly, especially at this time our lives are normalizing after the COVID-19 pandemic," said Chief Representative SAKAMOTO Takema.
The Philippines has a relatively young population, belonging to the 15-30 years old age group. Senior citizens, or those whose age are 60 and above compose 8% of the population.
JICA recognizes that the COVID-19 added pressure to Filipino health workers and that the study-visit in Japan offered the Filipino participants an opportunity to rethink ways to improve their work. They are expected to be the "frontliners" who will contribute to formulating strategies for the improvement of the Philippines' social welfare sector for the elderly through their respective designations. This will benefit the Philippines as it transitions toward an ageing society by 2030 to 2035.
Furthermore, they are also expected to be strong bridges between two amicable countries with the spirit of mutual respect and mutual understanding. "They are 'Grassroots Ambassadors' who will continue to bridge the Philippines and Japan closer through their work with the knowledge they received from their training in Japan," SAKAMOTO added.
For this KCCP course, participants came from organizations such as Batangas Medical Center, Bicol Region General Hospital and Geriatric Center, Cotabato Regional Medical Center, Jose Reyes Memorial Medical Center, Mariano Marcos Memorial Hospital, National Center for Mental Health, San Lazaro Hospital, University of the Philippines-Manila, University of the Philippines Population Institute, Vicente Sotto Memorial Medical Center, and Western Visayas Medical Center.
"The course was well-designed, the topics and activities were relevant and informative, and experiencing Japan's culture was a fulfilled dream. My learnings will contribute to the establishment of research partnerships and implementation of programs that aim to improve the social welfare for the Filipino elderly," said Angely Garcia, participant from UP Manila, Institute on Aging, National Institutes of Health.
The JICA KCCP program has been sending young Filipinos in Japan to learn Japan's system and culture. The courses offered under KCCP are field-oriented based on dialogue and collaboration. The program also promotes good will and mutual learning between JICA and the Philippines. There had been more than 42,000 Filipinos who are recipients of JICA's trainings since 1954.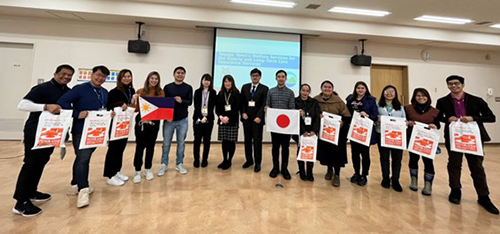 KCCP-Young Leaders participants