Legazpi City offers fresh hope to local sustainable farming by tapping a Japanese company's waste-to-fertilizer technology.
To increase public interest in this innovation, Legazpi City, OKADA Manufactory Co. Ltd., and Japan International Cooperation Agency (JICA) concluded an international conference on organic solid waste management introducing said technology to stakeholders in the agriculture sector.
Under Republic Act No. 9003 or Solid Waste Management Act, local governments are mandated to divert at least 25% of solid wastes from waste disposal facilities through recycling, composting, and other resource recovery activities.
The technology is being introduced under the JICA Partnership with the Private Sector - Sustainable Development Goals Business Supporting Survey where Japanese companies share ideas and technology to solve social problems. Japanese company Okada Manufactory Co. Ltd. piloted the survey in Legazpi City since 2018.
"JICA works with the Japanese private sector to further boost the socioeconomic growth of our partner countries like the Philippines. It's a win-win relationship because the Philippines benefits from Japanese innovations with social impact while Japanese companies are able to stimulate future investments," said JICA Senior Representative SHIMIZU Mikako.
Legazpi City spends millions just to manage wastes in landfills. But, through the unique and advanced waste-to-fertilizer technology of Okada Manufactory Co. Ltd., increasing waste processing to as much as 20 times from its processing rate years prior can be realized. In addition, the city processes organic wastes using Okada's rotary composting facility and transforms them to fertilizers that farmers can use.
"I am proud to say that the City Government of Legazpi has sustainably addressed this problem by having this project of putting up the composting facility in Barangay Banquerohan which is considered first in Bicol region, if not in the country," said Legazpi City Mayor Carmen Geraldine Rosal.
Legazpi City, which is 48.6% crop lands, is largely an agricultural community. Farmers compose its major workforce. Less dependence on chemical fertilizers allows for growing safe and healthy vegetables for the community, which can lead to the increase of the farmers' income.
Aside from Okada, several other Japanese private companies are also working with local government units (LGUs) and other organizations in the Philippines to bring latest innovation that would fill the gap in Philippine sustainable development, including among others, technology addressing disaster-resilient infrastructure, math education, public health to name a few.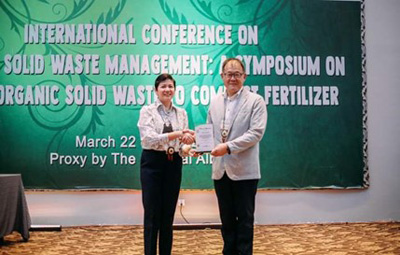 Legazpi City Mayor Carmen Geraldine B. Rosal (left) and OKADA Manufactory Co. Ltd. President IKUO Suzuki (right).