Caring for the elderly in the Philippines is becoming a very critical challenge with its longer life expectancy. According to the Philippine Statistics Authority (PSA), the number of Filipino elderlies, who are 60 years of age and above, has doubled to 9.2 million in 2020 from only 4.6 million in 2000, with Pasig City accounting for approximately 73,000 of them.
Against this backdrop, the City Government of Pasig has teamed up with Japan International Cooperation Agency (JICA) and a Japanese company INFIC, Inc. in piloting a Japanese-style comprehensive care system for elderlies in the country. The City Government of Pasig will be providing a facility where this will be implemented.
Through this unique and high-quality care system to be introduced by INFIC, Inc., the elderlies will be supported and encouraged to become less dependent on other people with their needs. The cooperation will include caregiving trainings and pilot activities for services that will combine day care, short-term stay, and home visits for Pasig City elderly residents. It will also introduce an internet-based device that can help monitor the elderly closely.
"President Marcos himself urged the ASEAN community, at the ASEAN Summit in Indonesia last month, that 'it is time now to start discussing the issues about an aging population, consistent with the Asian tradition of valuing our elders.' We fully agree with President Marcos. Our goals and workplans should include safe, dignified, and productive lives for our elderly people," said JICA Philippines Chief Representative SAKAMOTO Takema.
As part of JICA's efforts to involve the private sector in answering social problems, INFIC is co-implementing the project under the JICA's Sustainable Development Goals (SDGs) Business Supporting Survey. Said Public-Private Partnership Promotion program has already adopted 88 projects and is implementing multiple projects throughout the Philippines spanning areas such as disaster management, agriculture, environment and energy, and social development since 2009.
INFIC is a Small and Medium-sized Enterprise (SME) based in Shizuoka City, Japan, that specializes in nursing-care, human resources, the Internet of Things (IoT), artificial intelligence (AI), and financial services. INFIC pioneered the expansion of a nursing-care service for self-support in the Philippines and hopes to further introduce the Japanese-style nursing-care system throughout ASEAN.
"INFIC is working to support the independence of the world's elderly with the power of nursing care and the power of technology. The project to introduce a Japanese-style nursing care system in the Philippines is a part of this mission. We hope to enable the elderly in the Philippines to live their lives to the fullest and with smiles on their faces, while promoting the spread of nursing care facilities in the Philippines," said INFIC President MASUDA Masatoshi.
The cooperation is expected to run until 2025.
Other than partnership with Japanese private sector, the City Government of Pasig is also closely working with JICA in the Pasig-Marikina River Channel Improvement Project, research in climate change adaptation, traffic management, and people-to-people exchange.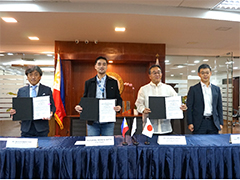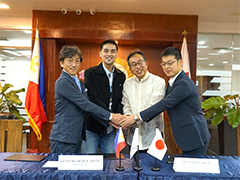 About JICA:
The Japan International Cooperation Agency (JICA) is the executing agency of Japanese Official Development Assistance (ODA), which handles technical cooperation, ODA loans and investment, and grant aid, as well as cooperation volunteers and disaster relief programs. JICA is the world's largest bilateral aid agency with its scale of operations amounting to about JPY 1,536.1 billion for JFY 2021 and a worldwide network of almost 100 overseas offices including the Philippines.
For more information on JICA and JICA Philippines' activities, please log on to https://www.jica.go.jp/english and https://www.jica.go.jp/philippine/english/index.html. Follow our Facebook page for more updates: https://www.facebook.com/jicaphilippines (external link)