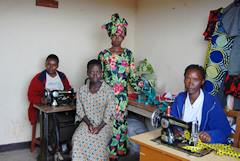 Ex combatant and former JICA trainee, Chantel (middle) is now heading a tailoring cooperative in Gicumbi, Northern Province.
Rwanda has experienced long standing civil wars and genocide in the past. While Rwanda has been demobilizing soldiers and reintegrating ex-combatants into local communities through the Rwanda Demobilization and Reintegration Program (RDRP), demobilized soldiers particularly with disabilities (DSwDs) face serious challenges in rebuilding their lives socially and economically. Closely working with the Rwanda Demobilization and Reintegration Commission (RDRC) and Skills Training Center (STC), the project aims are 1) strengthening STC capacity on skills training for DSwDs, and 2) raising public awareness for people with disabilities including DSwDs. Skills training includes tailoring, construction, carpentry, welding and water supply work.
Ex combatant Bosco (left) becomes part of the local community, and runs his shoe making business with his civilian partner in Gicumbi, Northern Province

Screening & Monitoring: This component focuses on the implementation of skills training for DSwDs at two training centers, CFJ Nyanza and Rwabuye. After announcing skills training courses through various means, including radio, the project performs DSwDs screening and monitoring of the training implementation.
Manual review for DSwDs skills trainings: A manual review and revision on the implementation of DSwDs skills trainings is conducted.
Capacity Building: This component focuses on strengthening the capacity of the Rwandese Government for the DSwDs skills trainings. The project makes relevant recommendations to promote knowledge-sharing of the skills training to a new institution under the Ministry of Local Government (MINALOC)
Raising awareness to change attitude: A public seminar as well as a stakeholder workshop are organized to raise awareness of DSwDS and people with disability, within the government and in general public.
Under the project, a total of 100 demobilized soldiers with disabilities, including two women DSwDs, have been accepted for skills trainings in CFJ Nyanza and CFJ Rwabuya (45 DSwDs and 55 DSwDs respectively). So far, 34 cooperatives are formed by those who completed the trainings.
This project is a follow-up to the Skills Training for the Reintegration of Demobilized Soldiers with Disabilities (2005-2008).