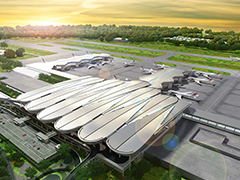 3D design photo of BIA
Hon. Prime Minister Mr. Mahinda Rajapaksha ceremonially opened the Apron and Taxiway constructed as a part of Bandaranaike International Airport Expansion Project on 25th November 2021 in the presence of H.E. Mr. MIZUKOSHI Hideaki, Ambassador of Japan to the Democratic Socialist Republic of Sri Lanka, Hon. Minister Tourism, Mr. Prasanna Ranathunga, Hon. Minister of Youth and Sports Mr. Namal Rajapaksha, Hon. State Minister of Aviation and Development of Export Zones Development, Mr. D.V. Chanaka, Members of Parliament in the area, Chairman Airport Aviation Sri Lanka Limited, Major General (Rtd.) G.A. Chandrasiri, Mr. YAMADA Tetsuya, Chief Representative of JICA, and officials of the line Ministry and Airport Aviation Sri Lanka.
Japan through JICA has been partnering with Sri Lankan Government for developing Bandaranaike International Airport for nearly four decades since 1980. With the opening of New Apron and taxiway, the area of the Existing Apron, which is 269,000m2, is extended by another 210,000m2 and the total area of the Apron will be 479,000m2. The number of existing parking stand of 25 will be increased by another 23 and total parking stand will be 48. In addition, a new storm water drainage system, including a retention pond, is also constructed. With these new facilities, airport operation functions such as parking, unloading or loading, refueling, maintenance will be significantly improved. Hazama Ando Corporation Japan undertook the constriction of Apron and Taxiways.
Another one of the project's two major components is the construction of a new passenger terminal building, which is in progress by Taisei Corporation Japan, and is expected to be opened in 2024. The terminal building would be developed based on the concept of Eco-Airport with Japanese advanced technology and know-how. The concept includes rainwater harvesting for the landscaping works and recycled water from the sewerage treatment plant for flushing toilets, photovoltaic power generation, solar energy harvesting, LED lighting, energy-efficient glazing, etc. After completion of the Terminal, the airport will handle 15 million passengers per annum (mppa) and eventually ease the air traffic movement.
JICA's total financing for the expansion of Bandaranaike Airport is JPY 74,397 million (approx. Rs. 110 billion) for both of the said components. JICA's loan has been provided under the Special Terms for Economic Partnership, with 0.1% p.a. interest and a 40-year repayment period to promote technology transfer, build quality infrastructure, and economic cooperation between Sri Lanka and Japan.
The Bandaranaike International Airport (BIA) is Sri Lanka's biggest airport and main gateway to the world. BIA acts as a regional and national economic motor, creating the necessary infrastructure for a wide range of economic activities, as access to markets and international transport links are vital for economic development. On the other hand, Sri Lanka as an island country will immensely benefit for regional cooperation and social inclusion.
Japan International Cooperation Agency (JICA) is the executing agency of Japan's Bilateral Official Development Assistance (ODA). JICA, the world biggest bilateral aid agency, works in over 150 countries and regions. In accordance with its vision of "Inclusive and Dynamic Development," JICA supports the resolution of development issues in developing countries. In Sri Lanka, Japan has been providing financial and technical assistance since 1954 and is one of the biggest donor to the country. On behalf of the people and the Government of Japan, JICA contributes to improve life of people in Sri Lanka.